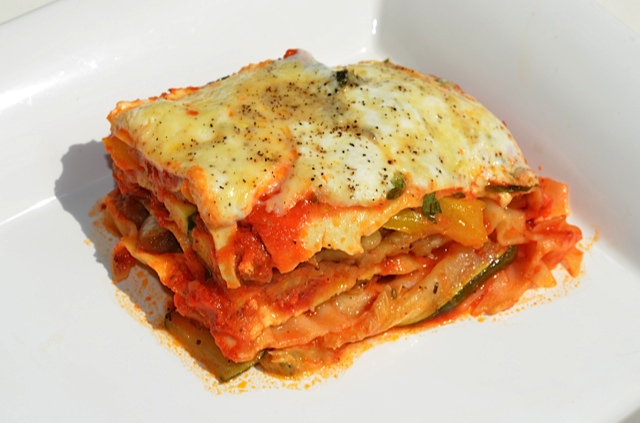 prepared by and photo by Emily S. Downs

No-boil lasagna noodles and roasting the vegetables for a short time, speed-up the process of assembling this lasagna dish.  Loaded with flavor.

Size:

serves 4



Ingredients:
7 tbsp olive oil, divided
1/2 tsp chili flakes
1 tsp herbes de Provence
1 medium eggplant (about 1 lb), sliced into 1/8-1/4" planks (I peel as well)
1 large zucchini (about 3/4 lb), sliced into 1/8-1/4" planks
1 yellow pepper, sliced into thick strips
1/4 large red onion, thinly sliced (about 1/3 cup)
8-10 cloves garlic, in their jackets/casings
Kosher salt and freshly ground black pepper
1 (28 oz) can/jar store-bought marinara sauce
8 no-boil lasagna noodles soaked in hot water for ten minutes and dried on paper towels
6 sun-dried tomatoes in olive oil, chopped
15 small leaves of fresh basil
10 small leaves of fresh mint
1 tsp fresh thyme leaves
5 1/2 oz fresh mozzarella cheese, thinly sliced
1/3 cup grated Parmesan cheese



Directions:




Adjust oven rack to lower-middle position and preheat the oven to 450F.  On a wide rimmed baking sheet, mix 6 tbsp of olive oil with the chili flakes, and herbes de Provence.  Toss the eggplant, zucchini, bell pepper, onions, and garlic in the olive oil mixture until well coated and season with salt and pepper.  Arrange the vegetables in a single layer on two baking sheets.  Roast until vegetables are softened and just beginning to brown, about 10 minutes.  Set aside to cool.  Peel the casings off the garlic and discard.  Lower the oven to 350F.

Assemble the lasagna in a 8×8″ rectangular baking dish.  Spread half a cup of marinara sauce on the bottom of the dish.  Arrange one layer of lasagna sheets on the sauce, trimming as necessary so you have a single layer of noodles.  Top with another 1/2 cup of sauce.  Arrange half of the vegetables and garlic cloves in a single layer on the lasagna sheets.  Add another layer of pasta.  Top with another 1/2 cup of sauce.  Top with the chopped sun dried tomatoes.  Layer the second and final layer of vegetables and garlic.  Top with the final layer of pasta.  Top with the remaining marinara sauce.  Gently press everything down to ensure that all the pasta is coated in liquid.

Top the lasagna with a layer of fresh herbs, then a layer of mozzarella, followed by a layer of Parmesan.  Drizzle with the remaining tablespoon of olive oil, and season with salt and pepper.  Wrap the baking dish in foil, and place on a rimmed baking sheet.  Bake for 30 minutes until bubbly.  Take the foil off the lasagna, and turn the oven back up to 450F.  Bake for another 5 minutes, until the cheese is golden brown and bubbly.

Allow the lasagna to sit for 5 minutes and cool slightly.  Cut into 4 squares and serve.

Is Sugar Really THAT Bad for You?