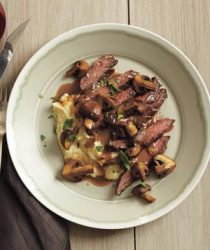 This delicious recipe is not your mother's "Meat and Potatoes."  Its a clean, fresh take on the all American dinner, with mashed cauliflower (don't knock it 'till you tried it) taking the place of potatoes.  The original recipe called for skirt steak, and you can also use flank steak, but I am recommending a nice lean sliced beef tenderloin. This recipe is adapted from one of Real Simple's favorites and you will be surprised at how much you, your family and friends will enjoy this healthy version of comfort food!  Serve with a tossed green salad.  (To avoid the holding of noses, I didn't tell my kids that this was cauliflower instead of potatoes until after they tasted it! They loved it!)

Size:

Serves 4 people



Ingredients:
1 small head cauliflower (about 1 1/2 pounds), cut into florets
2 tablespoons unsalted butter, cut into pieces
Kosher salt and pepper
1 1/2 - 2 pounds beef tenderloin, trimmed and sliced
10 ounces cremini mushrooms (or your favorite mushrooms) quartered
1/2 cup red wine (you can also use white if you prefer, or even stock)
2 tablespoons chopped flat leaf parsley , fresh



Directions:



Fill a large steamer pot with an inch or 2 water.  When the water simmers, place the cauliflower in the steamer basket, cover, and steam until very tender, about 20 minutes. Place the cauliflower in a bowl, add the butter, generously season with salt and pepper.  Puree with an immersion blender until smooth.  If you prefer, you can also use a food processor.
Heat the oil in a large skillet over medium-high heat. Season the steak generously with salt and pepper and cook, about 3 minutes per side for medium-rare. Remove from skillet to rest.
Add the mushrooms to the skillet (don't clean the skillet!) and cook, tossing occasionally, until browned and tender, about 3 minutes. Add the wine and stir until reduced and slightly thicker, about 2 to 3 minutes; only then should you season with salt and pepper.
Plate the steak with the cauliflower puree, topped with the mushroom sauce and sprinkle with the parsley.
Enjoy!