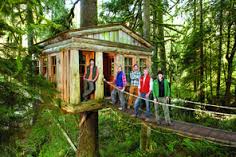 Animal Planet debuts a new home show about treehouses and the people who love them. The mastermind and star of Treehouse Masters (formerly titled Treehouse Men) is Pete Nelson, a self-described tree whisperer who builds full-fledged homes in the treetops. Designing multi-bedroom dream tree houses complete with functional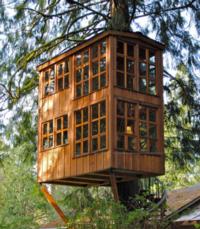 plumbing and electricity to simple, one-room lofts, Pete goes out on a limb to create breathtaking realities for a host of clientele. However, creating these fantasy arboreal homes doesn't come easy. Pete and his team of designers and carpenters, including son Charlie, must endure Mother Nature's shifty antics, dangerous construction equipment and dizzy heights in order to build these sanctuaries. In addition to building these hideaways, Pete, along with his wife, Judy, and daughter, Emily, own and operate TreeHouse Point, a bed and breakfast in Washington, where people can escape their modern-day realities.
Starting Friday, May 31, at 10 p.m. on Animal Planet.