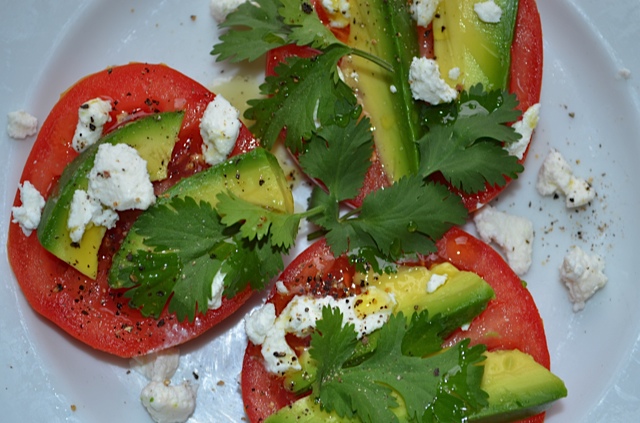 prepared by and photo by Emily S. Downs

A Mexican twist on everyone's favorite traditional Italian Caprese salad.

Size:

serves 6-8



Ingredients:
1 3/4 lbs tomatoes (3-4 medium), cut crosswise into 1/2? thick slices
Coarse salt and freshly ground pepper
1 ripe Hass avocado, halved lengthwise, pitted, peeled, cut lengthwise into 1/4? thick slices, & halved crosswise
1 lime, halved
6-8 oz queso fresco (or goat cheese), crumbled
1 small bunch fresh cilantro, separated into small sprigs
Extra-virgin olive oil, for drizzling



Directions:




Arrange tomatoes on a platter.  Season with salt.  Arrange avocado slices on top of tomatoes, dividing evenly.  Squeeze lime over tops, and sprinkle with cheese.  Top each with cilantro leaves.  Refrigerate, covered, until ready to serve (up to 1 hour).  Season with salt and pepper, and drizzle with oil before serving.