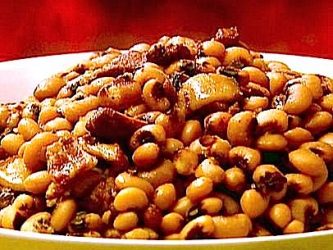 Looking for a recipe to bring you some luck for 2018? This savory one-dish meal made with pork and peas should do the trick. Pigs are said to be lucky because they root forward. Peas, especially black-eyed peas, are said to bring good fortune. Some say you should leave one pea on your plate, to share your luck with someone else. This delicious recipe is from Down Home with the Neelys.

Size:

6 to 8 servings



Ingredients:
1 pound dried black-eyed peas (fresh or canned black-eyed peas can be substituted)
2 tablespoons vegetable oil
6 ounces pork shoulder, diced into 1/2-inch cubes
4 strips thick sliced bacon, cut into 1/2-inch pieces
1 medium onion, small diced
4 garlic cloves, sliced
1 1/2 teaspoons salt
1 teaspoon freshly cracked black pepper
1/2 teaspoon cayenne pepper
1 teaspoon garlic powder
4 cups chicken stock
2 cups water
3 bay leaves



Directions:




Instead of soaking peas overnight, you can "quick-soak" them by putting them in a pot with about 4″ of water. Bring water to a boil for 2 minutes. Remove from the heat, cover and soak the peas for 1 hour. Then, drain and rinse the peas.

Heat the oil in a large pot over medium-high heat. When the oil is shimmering, add pork. Brown on all sides, about 4 to 5 minutes. Add the bacon, onion and garlic to the pot and cook, stirring, until the onion and garlic are lightly browned, about 6 to 8 minutes. Add the salt, black pepper, cayenne and garlic powder.

Cook about 2 minutes. Add the stock, water and bay leaves. Bring the mixture to a boil, then reduce the heat and simmer, covered, for about 30 minutes.

When the pork begins to fall apart, add the peas to the pot and simmer until the peas are very soft, about 1 to 1-1/2 hours. You can use the back of a spoon to smash some of the peas to create a creamier consistency.

Taste for seasonings. You can add hot-pepper vinegar for extra kick, if desired. Discard the bay leaves and serve.
---
Here are 6 Food to Eat for a Lucky 2018