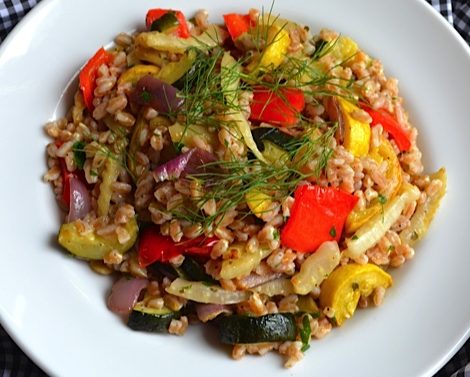 Prepared by and photo by Emily S. Downs
Read more about why people are choosing farro over quinoa.
My brother's wife first introduced me to the power-grain farro, and I thank her for it! Farro has twice the fiber and protein than common wheat (wheatberries) and it has been found to lower cholesterol as well as help in maintaining blood sugar levels. Besides it's healthy benefits, farro's nutty flavor and chewy texture blends wonderfully with both vegetables and fruits.
SIZE: serves 4-6
INGREDIENTS:
1 lb semi-pearled farro
2 small-medium yellow squash, cut into wide half-moons
2 small-medium green zucchini, cut into wide half-moons
2 bulbs fennel, cored and thickly sliced, fronds reserved for garnish
1 red onion, peeled and cut into wedges
2 red peppers, deseeded and cut into chunks
2 small eggplants or 1 large, cut into chunks
4 garlic cloves, peeled
Extra virgin olive oil as needed
Herbal or white wine vinegar
Small handful of fresh herbs, finely chopped (ie… flat-leaf parsley, basil, oregano)
Juice from 1 lemon, or to taste
Sea salt and freshly ground black pepper to taste
DIRECTIONS:
Preheat the oven to 400F.  In a roasting tray or baking sheet, spread the chopped vegetables out and drizzle generously with olive oil, making sure there is plenty of room for the vegetables to caramelize.  Sprinkle with salt and roast for 30-40 minutes, shaking the pan occasionally.  Remove from oven and sprinkle the vinegar over the vegetables as soon as they come out of the oven and set aside to cool.  When cooled, sprinkle with the fresh herbs.
In the meantime, cover the farro or other grain with cold water in a large saucpan.  Bring to a boil.  Reduce heat and simmer for 20-30 minutes or until tender. (Farro should be firm, chewy, and nutty in flavored.   Not mushy.)  Drain well, then dress with olive oil, lemon juice, salt, and pepper to taste.  Toss with the roasted vegetables and season again to taste.  Cover with chopped fennel fronds and serve.