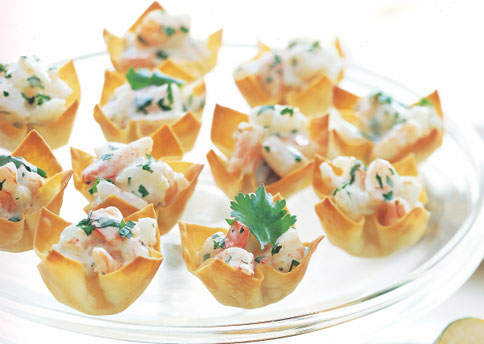 photo creds: bonappetit.com

Throwing a party(Oscar's)? Need to bring an appetizer to an event? Impress everyone with these filled wonton cups. Both the shrimp salad and wontons can be prepared ahead of time. Adjust the seasoning to your personal liking.

Size:

makes 48



Ingredients:
12 wonton wrappers (from one 12 oz pkg), each cut into 4 squares... (some packages contain 48)
Vegetable oil
1/2 cup mayonnaise
2 tbsp chopped fresh cilantro
5 tsp fresh lime juice
3-4 tsp mango-chutney
3/4-1 1/4 tsp Thai green curry paste*
12 oz peeled cooked medium shrimp, coarsely chopped
Fresh cilantro leaves (garnish)



Directions:




Preheat oven to 325F. Place wonton squares on work surface; brush lightly with oil. Press each into miniature muffin cup, oiled side down. Bake until wonton cups are golden brown, about 10 minutes. Cool completely in tins. (These can be made 3 days ahead. Remove cups from tins and store airtight at room temperature.)

Whisk mayonnaise, chopped fresh cilantro, lime juice, chutney and curry paste in medium bowl to blend (adjust chutney and curry to liking). Stir in shrimp. Season salad to taste with salt and pepper. (Salad can be prepared up to 1 day ahead. Cover and refrigerate.)

Place wonton cups on serving platter. Spoon 1 teaspoon shrimp salad into each cup. Garnish with cilantro leaves.

*Thai green curry paste can be found in the international section of most grocery stores.