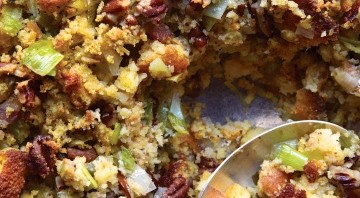 SIZE: serves 12
INGREDIENTS: 
2 cups pecans
2 cornbreads (rounds, squares, or loaves, 8 inches each), coarsely broken into 2-inch pieces (16 cups)
3 tablespoons unsalted butter, cut into small pieces, plus more for dish
8 slices smoked bacon, chopped into 1/2-inch pieces
4 celery stalks, chopped into 1/2-inch pieces
4 leeks (white and pale-green parts only), chopped into 1/2-inch pieces, rinsed well
1 tablespoon plus 1 teaspoon chopped fresh thyme
Coarse salt and freshly ground pepper
2 1/2 cups Homemade Turkey Stock, Chicken Stock, or store-bought low-sodium chicken stock
4 large eggs, lightly beaten
DIRECTIONS: 
Preheat oven to 350 degrees. Spread pecans on a rimmed baking sheet. Toast in oven for 7 minutes. Let cool slightly; coarsely chop. Mix together pecans and cornbread in a large bowl.
Butter a 9-by-13-inch baking dish. Cook bacon in a large high-sided skillet over medium-high heat until almost crisp, about 3 minutes. Reduce heat to medium; add celery and leeks. Cook until vegetables are tender, stirring occasionally, about 10 minutes. Stir in thyme and 1 1/4 teaspoons salt; season with pepper. Transfer to a large bowl.
Return skillet to medium-high heat, and add stock; bring to a simmer, scraping up brown bits and stirring constantly with a wooden spoon. Add to bowl with bacon-vegetable mixture. Stir in eggs. Gently mix in cornbread mixture. (Do not overmix.) Transfer to baking dish. Dot top with butter. Bake until golden brown, about 35 minutes.