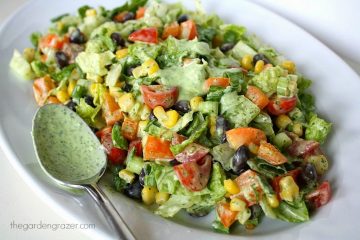 FOUND!   My new favorite salad and homemade dressing!   Avocado, Cilantro, Lime Juice, oh my!  This recipe is sure to be a crowd pleaser in the comfort of your own home or as an amazing dish to bring to your next social gathering ( I'm always looking for those)!
So simple, so fresh, so delicious! The last time I made this was for a few girlfriends that came to visit.  I omitted the chopped lettuce and we consumed it as a chunky salsa with chips, DANGEROUS!
Thank you so much for sharing Kaitlin! Check out her site for all the details to this amazing recipe.
http://www.thegardengrazer.com/2013/04/southwestern-chopped-salad-with.html
ENJOY!