What's Happening in and Around Your Town
LET US KNOW ABOUT YOUR NEXT EVENT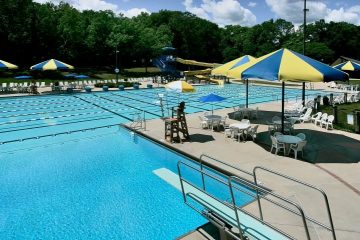 The Pool is Open!
The City of Summit Department of Community Programs has a huge variety of summer available classes, lessons and programs available for residents including paddle boarding, kayaking, Thai Chi, swim and mermaid lessons, and more. For more information on the Summit Department of Community Programs, Summit Family Aquatic Center or to make a donation, visit summitcommunityprograms.com.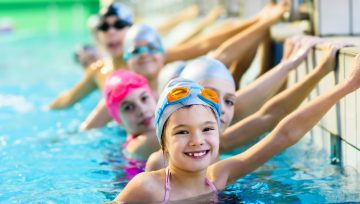 The Summit Department of Community Programs is hosting the World's Largest Swim Lesson event at the Summit Family Aquatic Center on Thursday, June 22. The event will begin at 10AM; both members and non-members are invited to participate.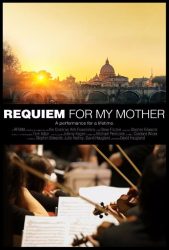 REQUIM FOR MY MOTHER – A DOCUMENTARY
Presented by the Summit Film Society
Discussion to Follow led by Conductor Candace Wicke
Saturday, June 3 at 8:00PM
426 Springfield Avenue, Summit
Requiem For My Mother tells several stories at once. It profiles Stephen James Edwards, a renowned Hollywood film composer; his mother, the late Rosalie, who instilled in him a love for music; the
requiem (Mass for the dead) he wrote in her honor; and the preparations for its performance in Vatican City. If Edwards is the quiet soul of this homage to love, loss, and song, then its fiery heart belongs to
conductor Candace Wicke, who guided the 160-voice choral group and 50-piece orchestra from beginning to end. Formidable, cantankerous, and so impassioned you can't help but love her, Wicke rocks-a true maestro. Moving without being maudlin, Requiem celebrates family, memories, and our universal search for healing.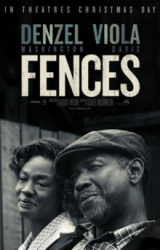 "FENCES"
Film Presented by the Summit Free Public Library
Monday, June 5, 12:30PM and 6:30PM
Summit Free Public Library, 75 Maple Street, Summit

Denzel Washington directed and stars in this adaptation of August Wilson's Pulitzer Prize-winning play, which centers on a black garbage collector named Troy Maxson in 1950s Pittsburgh. Bitter that baseball's color barrier was only broken after his own heyday in the Negro Leagues, Maxson is prone to taking out his frustrations on his loved ones. Both Washington and co-star Viola Davis won Tonys for their performances in the 2010 revival of the play. Stephen Henderson, Jovan Adepo, Russell Hornsby, and Mykelti Williamson round out the supporting cast. Rated PG-13. 133 minutes. Admission is FREE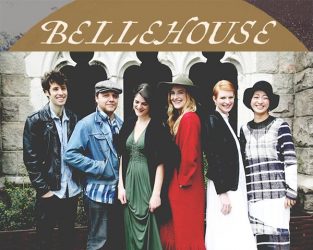 BELLE HOUSE – IN CONCERT
Saturday, June 10 at 8:30PM (Doors Open 8PM)
426 Springfield Avenue, Summit
Bellehouse undeniably harkens back to classic co-fronted bands of the '60s: Crosby, Stills and Nash, Buffalo Springfield, the Beatles, and so on, but their modern-day feminist take often sounds more like the lovechild of Fleetwood Mac, Florence & the Machine, and Sandy Denny-era Fairport Convention. The textural line-up of strings, bows, sticks, and mallets evolves from tune to tune, as does the perceivable character of the narrator.  Tickets: $20 in advance; $25 at the door: $10 students  Reservations: info@mondosummit.com  Pay at door- cash or check.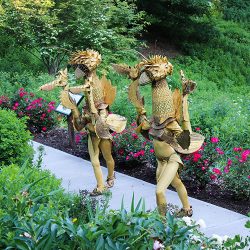 ART INTHE GARDEN
Saturday, June 10  from 6:00PM to 11:00PM
Reeves-Reed Arboretum, 165 Hobart Avenue, Summit

Get ready for an astonishing evening!  On Saturday, June 10, the gardens of Reeves-Reed Arboretum (RRA) will be alive with fabulous music, wonderful art installations, and incredible food as we celebrate our most eagerly anticipated annual fundraiser, ART in the Garden. Highlights of the evening will include a silent and live auction, music, and gourmet fare from David Ellis Events. Once again, the silent auction pre-bidding, gala sponsorships, and tickets will available online through 501auctions.com.  ART in the Garden traditionally celebrates the kick off for RRA's season of visual and performing arts, with, this year, the installation of wood wide web: trees as tonic, showcasing the extraordinary work of artist and environmentalist Susan Stair. The exhibit will also include wall-hung and installation works, sited on the grounds, by ten featured artists. For more information, please contact Manager of Special Events, Tom Tagariello at t.tagariello@reeves-reedarboretum.org or 908-273-8787 ext. 1414.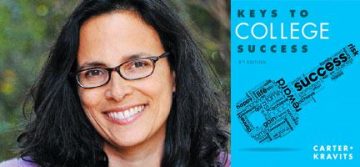 TWO DAY COLLEGE ESSAY WORKSHOP
Presented by Writers Circle Workshop
Saturday and Sunday, June 10 and 11 from 2:30PM – 4:30PM
MONDO, 426 Springfield Avenue, Summit

Writing a college essay can be a highly stressful part of the application process, especially for students who don't consider themselves "good writers." While a little stress can motivate and energize, too much can turn this necessary task into paralyzing agony.This workshop, consisting of two sessions held one day apart, will guide students toward a draft of their college essays while introducing stress reduction techniques that will ease them through the college application process. During the Saturday afternoon session, students will brainstorm for an engaging topic that fits one of the 2017 prompts, then begin to develop an essay that fulfills Common App requirements. Writing is rewriting, so students will be asked to use the time between the two sessions to develop their essays and arrive at a full working draft. During the Sunday afternoon session, students will receive feedback from Ms. Kravits as well as from peer review, and will further refine their drafts.  Sarah Lyman Kravits brings more than two decades of experience writing about and coaching high school and college students on success strategies. Virginia. Register ONLINE today! www.writerscircleworkshops.com or 973-900-0415.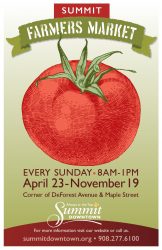 SUMMIT OUTDOOR FARMERS MARKET
"IT"S BAAACK!"
Sundays through November
Park and Shop Lot #2, Deforest Street, Summit
The Summit Summer Farmers Market is back! The market, which will run through November 19, is open 8:00AM -1:00PM in Park & Shop Lot #2 every Sunday. The full list of vendors can be found here  and be sure to like the Summit Farmers Market on Facebook and follow the market on Instagram!  All parking in downtown Summit it free on Sundays.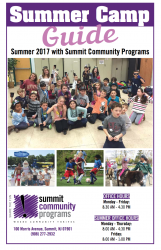 SUMMER CAMPS WITH THE DEPARTMENT OF COMMUNITY PROGRAMS
100 Morris Avenue, Summit
Register Now!
The Summit Department of Community Programs (DCP) is offering more than 20 different camps this summer!  There's sure to be one for your child.  Choose from: Decorating and Baking Around the World, Motocross Game Design, Fashion Passion, Live Action Flix, Starwars Stop Motion Flix, OMG I made That!, Tennis, Ponies and much more!  To find out dates, times and how to register go to summit communityprograms.com or call 908-277-2932.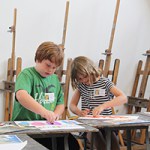 VISUAL ARTS CENTER SUMMER CAMP
Registration NOW Open!
Visual Arts Center of New Jersey, 68 Elm Street, Summit 
Registration is now open for the Visual Arts Center of New Jersey's award-winning Summer Art Camp, which begins July 10 and runs through August 31. The Camp is open to children and teens ages five and up, and staffed by professional art educators and student counselors.  Camp is offered on a week-by-week basis with varying themes allowing participants to sign up for several weeks. Projects will include hands-on activities such as drawing, painting, ceramics, sculpture, printmaking, and three-dimensional work.  At the end of each week campers will put together an art show in their homeroom studios for family and friends to see.  Early drop off is available from 8:30AM – 10:00AM. for an additional fee. Register is available by visiting artcenternj.org, by calling 908-273-9121, or in-person at the Art Center.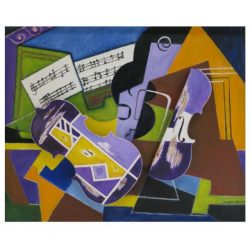 FRACTURED SYMPHONY ART EXHIBIT
Runs Now through June 2017 
The Hat Tavern at the Grand Summit Hotel, Springfield Avenue, Summit

The public is invited to view this wonderful exhibit at the Hat Tavern in the Grand Summit Hotel.  Music and visual arts go hand in hand as evidenced by the masterful painting constructions by artist Su-Hua Chen Low. Originally born and trained in Taiwan, Su-Hua 's work is full of color and vibrancy, with a "musical" sense of rhythm. In the case of FRACTURED SYMPHONY: a fusion of art & music, Su-Hua adds deconstructed pieces of string instruments to her canvas creating a collage construction that bears witness to the essence of the object rather than reflecting the actual instrument. Everything is transformed and becomes an interaction (a "fractured symphony") of shape and color to create a whole.  All of the works are for sale and the artists will donate 30% of each purchase to Reeves-Reed Arboretum. For information about this exhibit, please contact Frank Juliano, Executive Director, Reeves-Reed Arboretum, f.juliano@reeves-reedarboretum.org.
Library of the Chathams Calendar of Events

Click here for upcoming events and Summit Public Library programs.
CHATHAM PUBLIC LIBRARY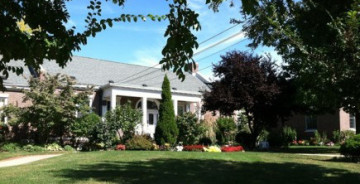 Library of the Chathams calendar
---
---
Emily's Luscious Lemon Squares: 
That Perfect Balance of Sweet and Tart.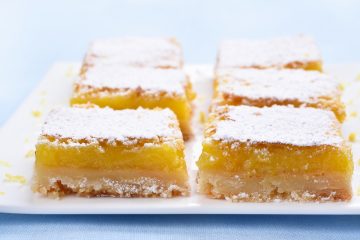 ---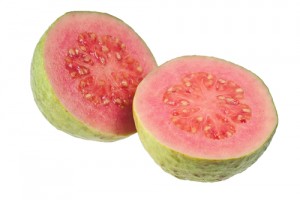 ---
A "New" Muddled Old-Fashioned Cocktail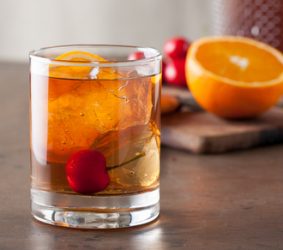 ---
Calling All Ice-Cream Fanatics! Try Our Waffle Ice Cream Sandwich