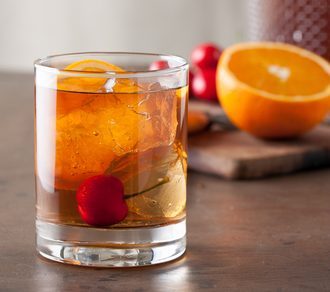 With the final season of Madman soon approaching… an upgrade to the old fashioned classic cocktail seemed only apropos, with thanks to Bill Heck's recipe (Bon Appetit). I substituted granulated sugar for the cubes… turned out equally as tasty…

Size:

makes 1



Ingredients:
2 sugar cubes (or 1 1/2-2 teaspoons granulated sugar)
4 dashes of Angostura bitters
1 lemon wheel
1 lime wheel
1 orange wheel
1 maraschino cherry
1/2 tsp grenadine
1/4 cup bourbon or rye whiskey
Club soda/seltzer
Ginger ale



Directions:




Drop sugar cubes in a rocks glass; sprinkle with bitters and add citrus wheels, cherry, and grenadine. Using a muddler or the handle of a wooden spoon, mash just to release fruit juices and oils. Add bourbon/whiskey. Fill glass with ice cubes; stir to combine. Top with equal parts club soda and ginger ale.