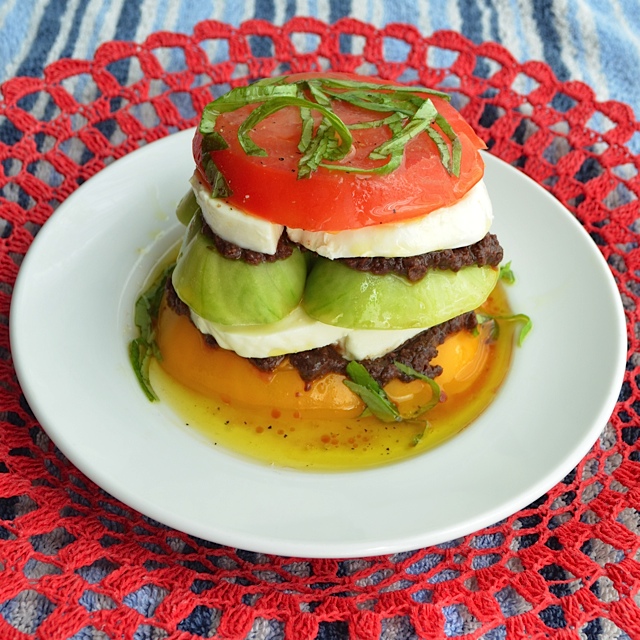 prepared by and photo by Emily S. Downs

I  make this every summer a few times throughout the season. It's a great way to take advantage of the delicious varieties of heirloom tomatoes out in the market. The tapenade and dressing can be made ahead of time, or even try using your favorite jarred tapenade available at many grocery stores. Takes the typical favorite, caprese salad up a notch or two.

Size:

8 servings



Ingredients:
TAPENADE: OR... use a decent jarred store-bought (which I have...)
2 cups pitted Kalamata olives (about 10 oz)
3 garlic cloves
4 anchovy fillets
2 tbsp pine nuts
1/2 cup olive oil

DRESSING:
1/4 cup white wine vinegar
2 tbsp honey
1 tbsp Dijon mustard
3/4 cup olive oil
12 large fresh basil leaves, thinly sliced

SALAD:
8 to 10 large tomatoes (preferably heirloom tomatoes of assorted colors), each cut crosswise into scant 1/2" thick slices
2 8 oz balls drained fresh water-packed mozzarella, cut into 1/3" thick rounds



Directions:




TAPENADE: Blend olives, garlic, anchovies, and nuts in processor until almost smooth. With machine running, add oil; process until blended. Season with salt and pepper. (Can be made 2 days ahead. Transfer to bowl; cover and chill.)

DRESSING: Whisk vinegar, honey, and mustard in bowl. Gradually whisk in oil. Stir in basil. Season with salt and pepper. (Can be made 8 hours ahead. Let stand at room temperature.)

SALAD: Place 1 tomato slice on each of 8 plates. Spread each with generous tablespoon tapenade; top with cheese round. Repeat layering. Top each stack with third tomato slice.*

Spoon some dressing over each stack.

* OPTION… chop any remaining tomato slices, place in a bowl and toss with 2 tablespoons of dressing… Spoon chopped tomatoes alongside of stack.