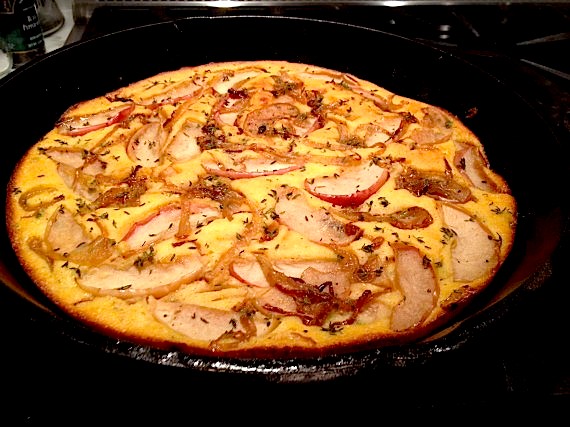 I was getting tired of plain cornbread so I tried adding apples to create whole different flavor. It's so yummy and comforting!

Size:

8 generous servings- I cut mine into 12 pieces



Ingredients:
3/4 cup plus 2 tbsp. unsalted butter
1 medium onion, thinly sliced
1 tsp. kosher salt
2 medium red or pink skinned apples such as Pink Lady(with skin)
5 tbsp. sugar, divided
2 tsp. fresh thyme leaves, divided
1 1/2 cup cornmeal
1 cup all purpose flour
1 tbsp. baking powder
2 large eggs
1 1/2 cups buttermilk



Directions:




Preheat oven to 400 degrees. Melt butter in an 8″ cast-iron skillet over medium-heat. Pour all but 2 tbsp. butter into a small bowl; set aside.
Add onion to butter in skillet; season with salt and pepper, and cook, stirring occasionally, until onion has softened and begins to brown, about ten minutes.
Add apples, 2 tbsp. sugar, and 1 tsp. thyme and cook, stirring often, until apples are softened, about 4 minutes. Transfer onion mixture to a medium bowl and reserve skillet.

Whisk cornmeal, flour, baking powder, 1 tsp. salt, and remaining 3 tbsp sugar in a large bowl. Gradually whisk in eggs, buttermilk, and 3/4 cup reserved melted butter until smooth(no lumps should remain). Fold in half of onion mixture and scrape batter into reserved skillet. Top with remaining onion mixture and remaining 1 tsp. thyme.

Bake cornbread until golden brown and a tester inserted into the center comes out clean, 30-40 minutes. Let cool slightly before serving.

Do Ahead: Cornbread can be made 6 hours ahead. Reheat before serving.

Is Sugar Really THAT Bad for You?