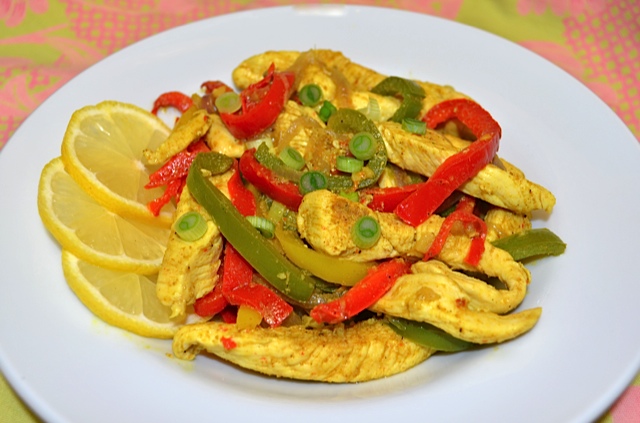 prepared by and photo by Emily Doscher

Whip up this Indian-inspired dish in a flash.  Mouth-watering juicy chicken tenders sauteed with a medley of peppers and onion.  Make it a meal by serving a healthy dollop of steamy rice along side.

Size:

4 servings



Ingredients:
3 tbsp vegetable oil-use olive oil
2 tbsp minced peeled fresh ginger
4 large garlic cloves, minced
1 red bell pepper, cut into strips
1 green bell pepper, cut into strips
1 yellow bell pepper, cut into strips
1 medium-size red onion, thinly sliced crosswise
1/2 tsp ground cumin
1/2 tsp ground coriander
1/2 garam masala (at most supermarkets, in spice section)
1/4 turmeric
1/4 tsp dried crushed red pepper (optional)
3 green onions, thinly sliced
Lemon slices



Directions:




Heat oil in large nonstick skillet over medium-high heat.  Add ginger and garlic; stir 30 seconds.  Add all bell peppers and onion; saute until golden, about 5 minutes.  Add chicken and all spices to skillet; sprinkle with salt and pepper.  Saute until chicken is cooked through, about 4 minutes.  Transfer to bowl.  Sprinkle with green onions. Garnish with lemon slices; serve.