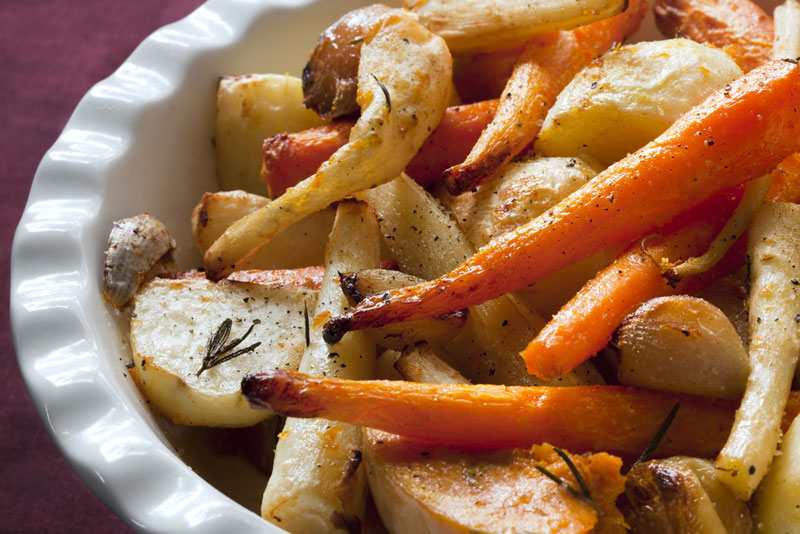 Eat your vegetables!!  And they will when you roast them.  Their flavor intensifies and they become slightly sweeter.  Keep that sweetness in mind when trying to get your kids to eat their veggies.  Check out these other sites for more ideas…
How to Master Roasted Vegetables
Roasted Vegetables: Recipes and Tips
Roasting Vegetables 101: Simple, Seasonal Side Dishes
A Veggie Venture: How to Roast Vegetables

Size:

8 servings



Ingredients:
Nonstick vegetable oil spray
1 lb red-skinned potatoes, unpeeled, scrubbed, cut into 1" pieces
1 lb celery root, peeled, cut into 1" pieces
1 lb rutabagas, peeled, cut into 1" pieces
1 lb carrots, peeled, cut into 1" pieces
1 lb parsnips, peeled, cut into 1" pieces
2 onions, cut into 1" pieces
2 leeks (white and pale green parts only), into 1" thick rounds
2 tbsp chopped fresh rosemary
1/2 cup olive oil
10 garlic cloves, peeled



Directions:




Position 1 rack in bottom third of oven and 1 rack in center of oven and preheat to 400F. Spray 2 heavy large baking sheets w/nonstick spray, or line w/parchment paper and spray.  Combine all remaining ingredients except garlic in very large bowl; toss to coat. Season generously with salt and pepper.  Divide vegetable mixture between prepared sheets.  Place 1 sheet on each oven rack.  Roast 30 minutes, stirring occasionally. Reverse positions of baking sheets.  Add 5 garlic cloves to each baking sheet.

Continue to roast until all vegetables are tender and brown in spots, stirring and turning vegetables occasionally, about 45 minutes longer.  (Can be prepared 4 hours ahead. Let stand on baking sheets at room temperature.  Rewarm in 450F oven until heated through, about 15 minutes.)

Transfer roasted vegetables to large bowl and then serve.
---
---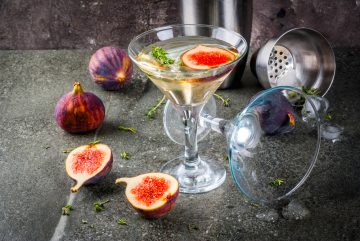 4. Figtini