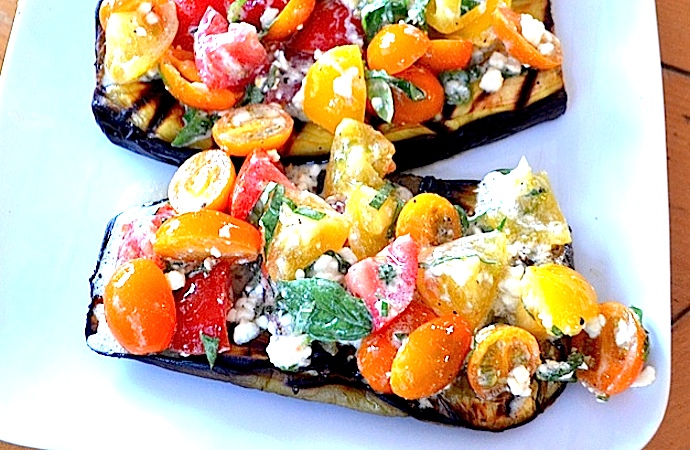 photo by Emily S. Downs

A summer vegetable dish served either as a side or light meal prepared by my mother while visiting their beach house over the vacation. Another winner I thought I'd share with Tips which originally came from marthastewart.com.

Size:

serves 4



Ingredients:
1 large eggplant (about 1 1/2 lb), trimmed, cut lengthwise into 1" thick slices
1 tbsp extra-virgin olive oil, plus more for brushing
2 cups cherry tomatoes (about 10 oz), halved
1/4 cup pine nuts, toasted
1 oz feta cheese crumbles (about 1/4 cup)
Pinch of red-pepper
1/4 cup packed fresh basil leaves, torn if large



Directions:




Generously season eggplant slices with salt. Place vertically in a colander, overlapping them. Let stand 30 minutes; rinse and pat dry.

Preheat grill to medium-high. Liberally brush cut sides of eggplant with oil. Grill turning once, until tender, about 4 minutes a side. Mix tomatoes, pine nuts, feta, red-pepper flakes, and oil; season with salt. Spoon over eggplant; top with basil.