Natural Stone Veneers International created an outdoor fireplace in three parts that is recommended by This Old House. If you don't have time to design and build an outdoor fireplace, this prefab version is a good option. Clad in a variety of real stone finishes, it comes in three pieces and can be put together with a forklift in a matter of hours, on a reinforced concrete slab. Starting around $6,500.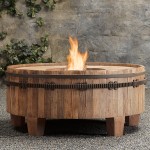 Restoration Hardware's Fire Table is built into a late 19th-century vintage butter churn from Pennsylvania. Its planked sides, are made of unfinished reclaimed elm. Inside, a steel receptacle uses clean burning Ventless Fireplace Fuel for a cozy ambiance. Place the wooden lid back on the receptacle when not in use as a firepit, and the multi-functional piece becomes a table for outdoor entertaining.  Regularly $1995, on sale for $1795.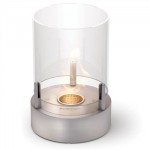 The Cyl Outdoor Fireplace. The Cyl is a cylindrical shaped "tea light" fireplace and is constructed from weather-resistant materials, fully portable and designed to make a dramatic statement in any outdoor setting. The round stainless steel base encases an ethanol burner, and the toughened glass surrounding it embraces the flame. The Cyl can be turned on and off as desired. It makes a stylish addition to any alfresco party or event at any time of the year. $1495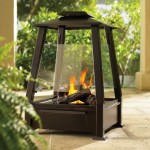 With Grandin Road's Monterey Outdoor Fireplace you can enjoy all the character of a real wood fire, without the usual hassle or mess. There's no need for wood, propane, or electricity. Clean-burning Gel generates a warming fire beneath life-like logs with the look of natural oak. Sturdy powdercoated steel frame and is ideal for smaller spaces and where log fires are restricted. $399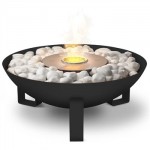 The Dish Outdoor Fireplace is a contemporary and environmentally friendly fireplace makes it safe and easy to bring an open flame to any space. Because each ventless fireplace uses bioethanol you get cozy warmth without smoke, sparks or mess. The Dish captures the ambiance of a campfire without the fuss. Built from durable, all-weather steel, it's specifically designed to use on your balcony, deck or patio. $890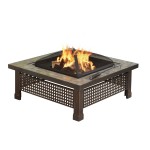 Lowe's carries the Pleasant Hearth Rubbed Bronze Steel Wood-Burning Fire Pit which has a 34″ natural slate top has a timeless, elegant style. Durable steel construction and table lid transforms the fire pit into an accent table.Wood grate provides improved oxygen circulation for a consistent fire and a rubbed bronze finish. $198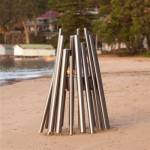 Fire Stix, Outdoor Fireplace is a contemporary twist on the traditional campfire. The EcoSmart Fire Stix is powered by clean-burning, environmentally friendly bioethanol. No smoke, no soot, no ash. Stix is a stylishly elegant hearth for lovers of outdoor living. Effortlessly set up and easily repositioned, its bright flame will keep you captivated as well as comfortable for up to 8 hours. $1395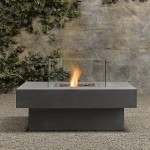 Restoration Hardware's Laguna concrete Ventless Fireplace Table is broad and low in profile. This modernist table offers a sophisticated focal point for outdoor entertaining and is reinforced in concrete to withstand weather and time. $1150, with others starting at $995.