Almost two years ago I researched and wrote an article on 5 different Food Box Delivery companies because I was intrigued by the concept and quite skeptical of the process. I pride myself on my meal planning, food shopping and cooking skills so I didn't think this concept would be a good fit for me. I didn't trust some stranger choosing my food and who knew what these recipes would be like. Well, fast-forward to 2017 and all of that has changed. With my work and personal schedule busier then ever plus the kids' schedules, we got to the point where "breakfast for dinner" was no longer a novelty but a regular dreary occurrence.
With some strong encouragement from my hubby (I think there was mostly self=preservation on his part) I bit the bullet and committed to Blue Apron.
Seriously? What was my problem? It is FANTASTIC! It could not be simpler! The sign up is quick and painless and then your options are meals for 2 or 4 (family); then choose 2-4 meals per week. You then get to go and pick your menu for each week up to 6 weeks in advance. Set your delivery date and that is all. Everything is adjustable, you can go back and change your meals and your delivery days and you can pause or cancel any time. The average cost for the family meals is $8.74/person!! And you can often find a coupon or code for first time orders. Shipping is FREE.
But wait, it gets better – the part that attracted me most: Blue Apron has partnered with over 150 farmers to provide the freshest, premium quality, sustainable, non-GMO products and by cutting out the middle man (food stores) they can cut down cost and food waste. YAY!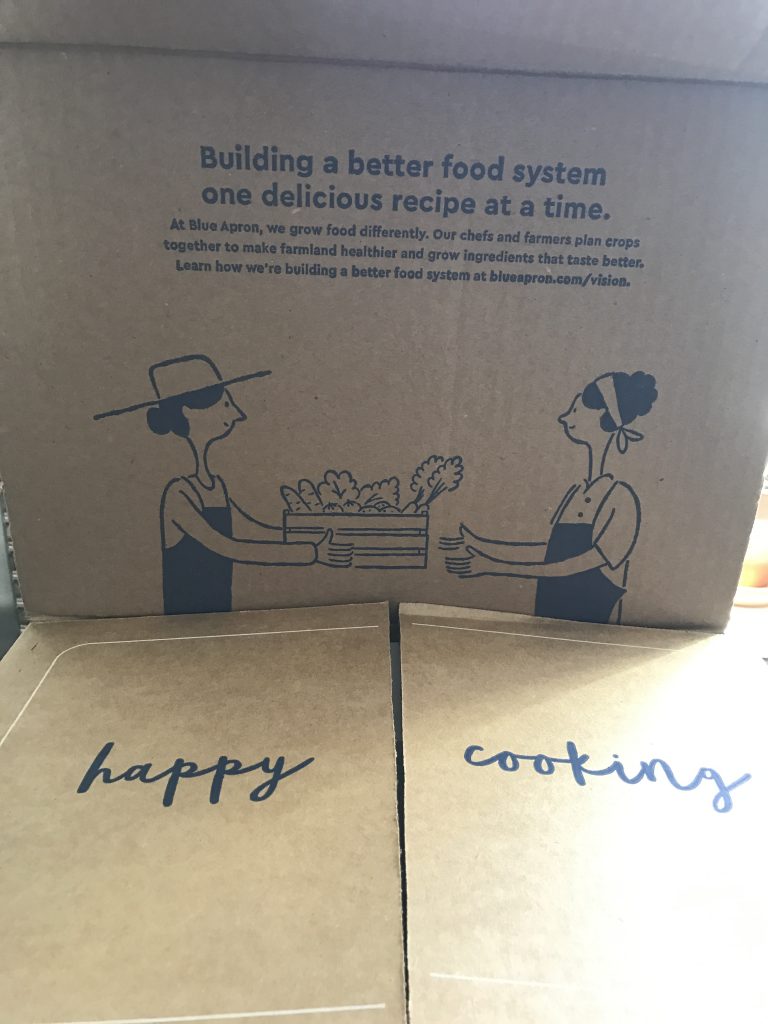 THE INAUGURAL MEAL: Za'atar-Spiced Chicken & Bulger with Yogurt Sauce and Pita Chips
Everything was packaged well and beautifully.

It would have been fine to sit on my porch for several hours with the ice packs. All packaging is recyclable or you can return it free to Blue Apron.

Everything is labeled and pre-portioned for you.

All you would need is Olive Oil and salt and pepper. These can be bought through Blue Apron too.

Recipe cards have pictures and are VERY explicit with boxes to check off.

The recipes are easy to follow and would be manageable even for a novice chef although having some skills in the kitchen is helpful. I found in some of the recipes I have done that the prep time took me a little longer than they indicated (so maybe it's just me?) Most meals take about 30-45 ish minutes to cook.
Having special kitchen tools and implements

are not necessary

but are helpful and you can also get these through Blue Apron.
The portion sizes are good although with my famished family of 4, I sometimes supplement the meal with a salad. Each recipe also comes with a nutritional card complete with calorie counts and ingredients.

We have been using Blue Apron for over a month now and have loved every meal.

We are getting great variety in our recipes, trying some new things and I love knowing that I am providing high quality, well-balanced, healthy yet tasty meals.
ADDED FEATURES:
Wine: Blue Apron also has a similar concept with wine growers. They will pair wines to your menus and deliver directly to your home.
Kitchen tools, gadgets, pans etc: All of their recommended "chef gear" can be found and purchased on their site.
Oils & Spices: Ditto – these can be purchased separately on their site.
App: you can download the Blue Apron cooking app on you computer, iPod or phone. There you can find pictures, videos and more to help you prepare your meals.
Bonus Recipes: Lately, every delivery I have received has come with an extra easy recipe to try on my own.
More Time: I don't spend as much time on meal planning, shopping, and shopping and shopping or scrambling because I forgot something. Spending less time and money in the grocery stores is a HUGE win for me.
---
Stress-Free Dinner Party: Get it Delivered!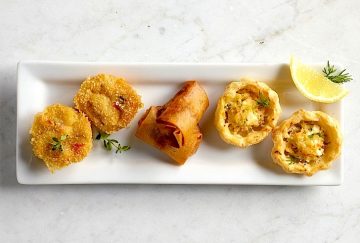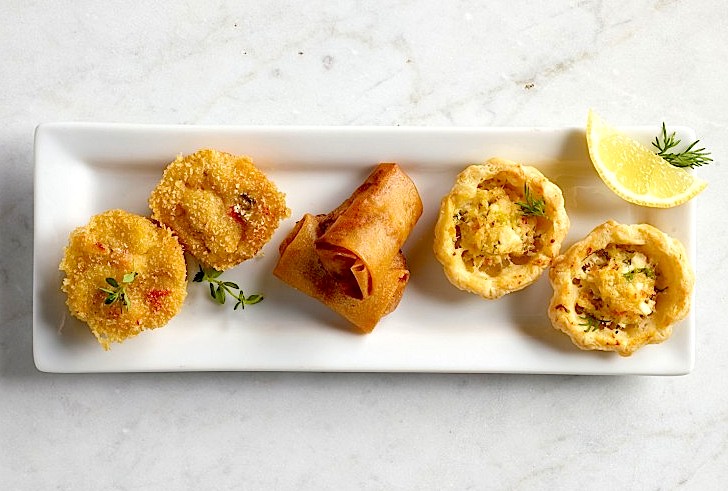 ---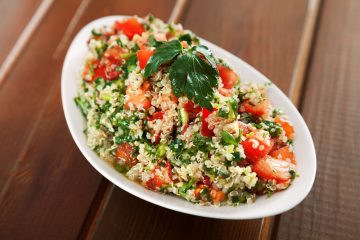 ---
One Skillet Mediterranean Chicken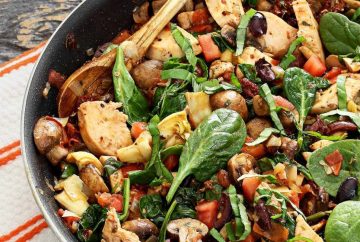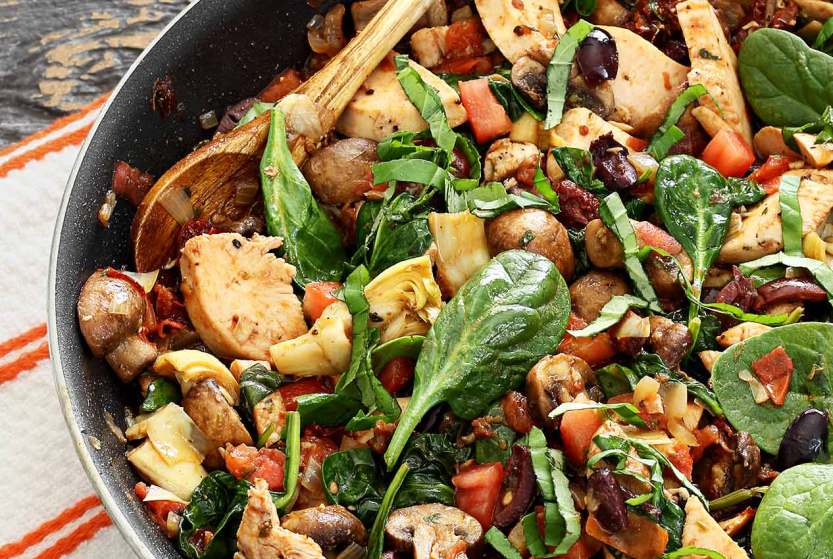 ---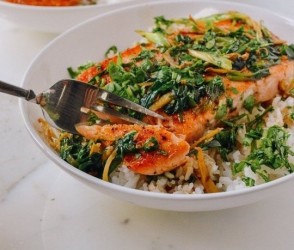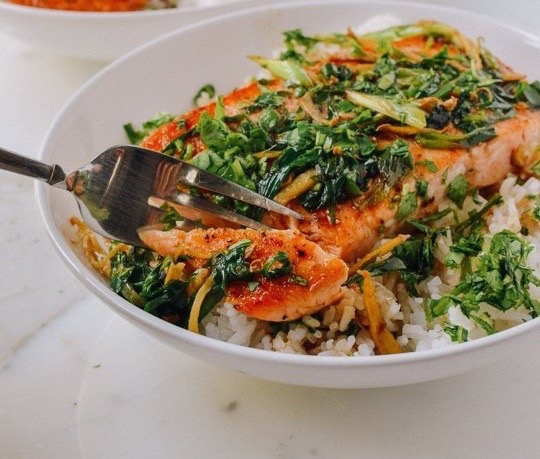 ---
Farm Fresh Food Delivered to Your Door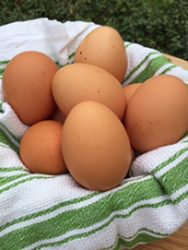 ---
The Secret to Getting Great Abs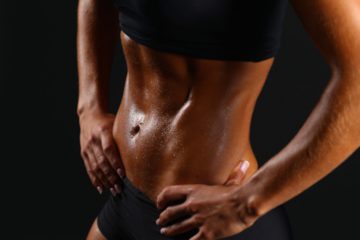 ---
Is Homemade Slime…Dangerous for Your Kids?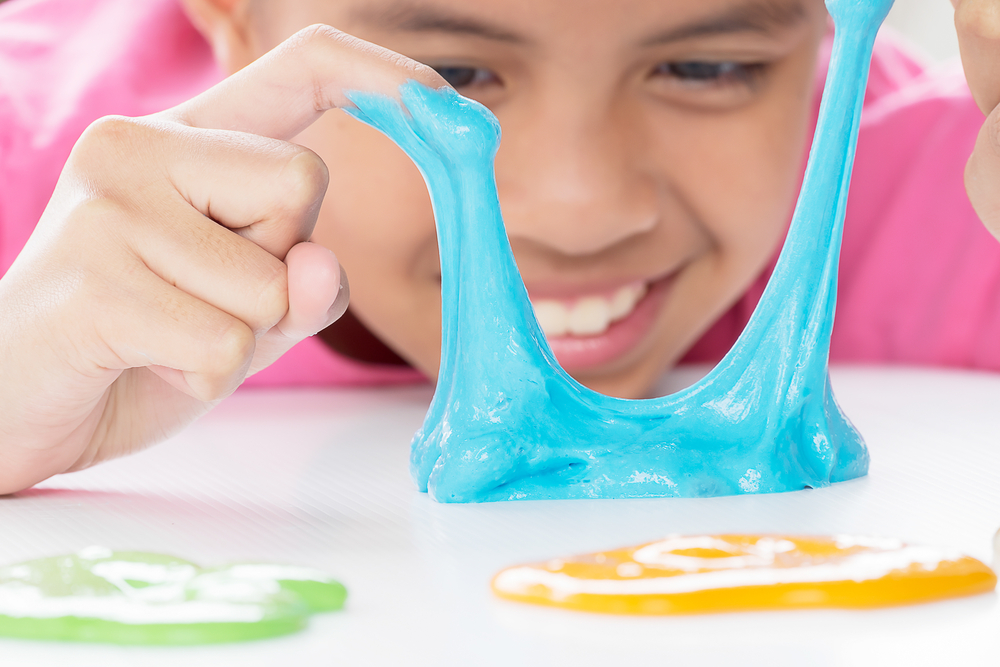 ---
Calling All Ice-Cream Fanatics! Try Our Waffle Ice Cream Sandwich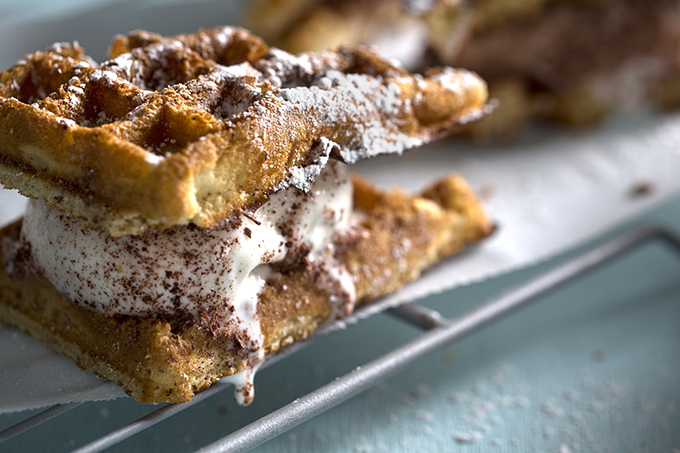 ---
 A Gooey, Juicy, Even a Bit Crunchy, Sloppy Burger You Will Love:
Nacho Burger