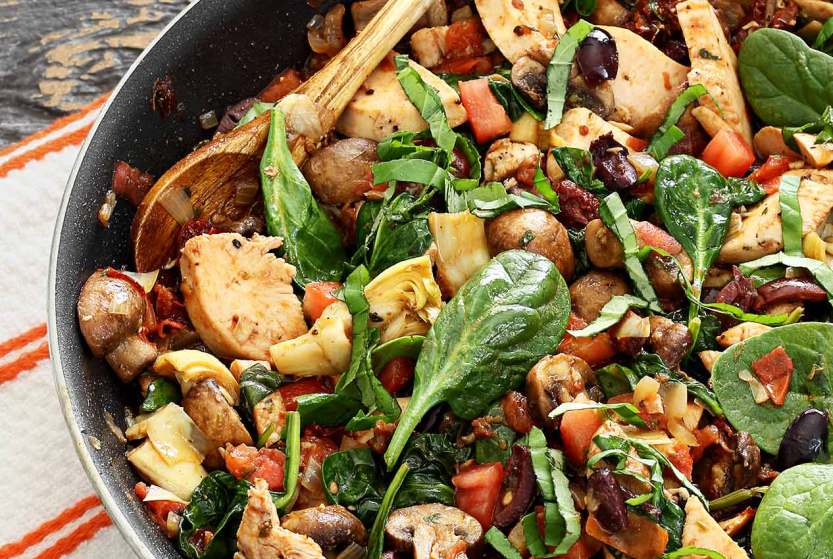 photo creds: paleonewbie.com

Easy prep and easy clean-up. Great meal-in-one-skillet. Super to transport and rewarm if you're in charge of bringing "the entree". What else do you need?

Size:

one skillet



Ingredients:
1/2 yellow onion, diced
1-2 cloves garlic, minced
8 oz mushrooms, sliced
3 Roma tomatoes, diced
8 oz jarred artichoke hearts, drained
1/2 cup sun-dried tomatoes, chopped
1/3 cup Kalamata olives, chopped
1 lb pre-cooked chicken (rotisserie, or oven-roasted sliced breasts)
Fresh spinach (a few handfuls)
2-3 tbsp olive oil
1 tbsp balsamic vinegar
1 tsp dried parsley
1 tsp dried oregano
2 tbsp fresh basil, chopped for garnish
Salt and pepper



Directions:




In a large skillet over medium heat, add 1 Tbsp of olive oil and sauté the chopped onions for 3-4 minutes.

Add the minced garlic in with the onions, and sauté together one more minute.

Add the sliced mushrooms to the sautéed onions and garlic and cook 5-7 minutes until the mushrooms are golden. Add salt and pepper to taste while cooking.

Add 1 tablespoon of olive oil and 1 tablespoon of balsamic vinegar to the pan then toss in the Roma tomatoes, sun-dried tomatoes, artichoke hearts, and olives. Sprinkle in the parsley, oregano, and stir a few minutes.

Next add the chopped chicken and spinach to the pan – stir and cook 1-2 minutes, or until chicken is heated through. Add more salt and pepper if needed.

Serve hot garnished with the fresh basil

Why is Spinach Good for You?