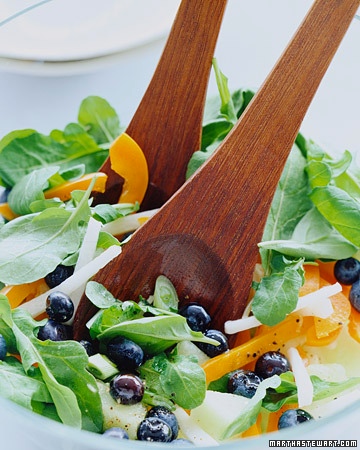 marthastewart.com

A salad full of texture, vibrant color, and seasonal summertime fruit. Jicama can be found in many supermarkets in the produce section. If unavailable, no worries… salad is still worth it and equally and refreshingly tasty.

Size:

serves 6



Ingredients:
2 tsp minced or grated fresh ginger
1 tbsp rice-wine vinegar
2 tsp freshly squeezed lemon juice
1/4 tsp coarse salt
3 scallions, cut diagonally into 1/4" pieces
1/2 small jicama (about 4 oz), peeled and cut into 1/4" thick matchsticks (found at Whole Foods & other food markets)
1/2 honeydew melon, peeled, seeded, and cut into 1/2" cubes (about 2 cups)
1 orange bell pepper, cut into 1/4" thick strips
1 1/2 cups fresh blueberries (about 1/2 lb), picked over and rinsed
4 oz baby arugula
2 tsp canola oil
Freshly ground black pepper



Directions:




In a small bowl, whisk together ginger, vinegar, lemon juice, and salt.

In a serving bowl, combine scallions, jicama, honeydew, bell pepper, and blueberries. Pour ginger mixture over salad, and toss to combine (salad can be made up to this point 30 minutes ahead of time).

Just before serving, add arugula to salad mixture; drizzle with the oil, and season generously with black pepper. Toss to combine.