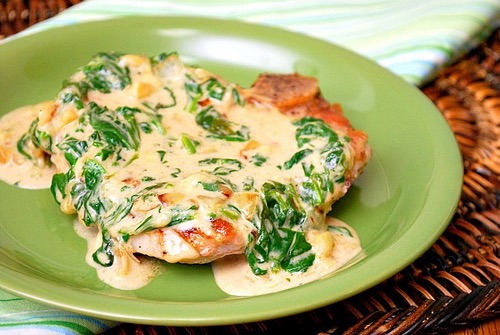 photo creds: whatscookinchicago.com

Need an entree in 30 minutes? With a veggie? Here's the one. Simple to make and one the whole family will enjoy. Just another way to get the kids to eat their spinach!

Size:

serves 6



Ingredients:
6 boneless skinless chicken breast halves (4 oz each)
1/2 cup grated Parmesan cheese
1/2 tsp dried basil
1/2 tsp dried oregano
3 tbsp butter, divided
2 green onions, chopped
1 tsp minced garlic
1 tbsp all-purpose flour
1/4 tsp salt
1/2 cup milk
1 tbsp sherry or chicken broth
1 pkg (10 oz) frozen chopped spinach, thawed and squeezed dry
2 tbsp diced pimientos
1/2 cup sour cream
1 cup (4 oz) shredded part-skim mozzarella cheese



Directions:




Flatten chicken to 1/2″ thickness. In a large resealable plastic bag, combine the Parmesan cheese, basil and oregano. Add chicken, a few pieces at a time, and shake to coat.

In a large skillet over medium heat, cook chicken in 2 tablespoons butter for 4-5 minutes on each side or until a meat thermometer reads 170F. Remove and keep warm.

In the same skillet, sauce onions in remaining butter for 2-3 minutes or until tender. Add garlic; cook 1 minute longer. Gradually add flour and salt; stir in milk and sherry or broth until blended.

Bring to a boil. Reduce heat; cook and stir for 1-2 minutes or until thickened. Stir in spinach and pimientos; heat through.

Remove from the heat. Stir in sour cream until blended. Spoon over chicken; sprinkle with mozzarella cheese.