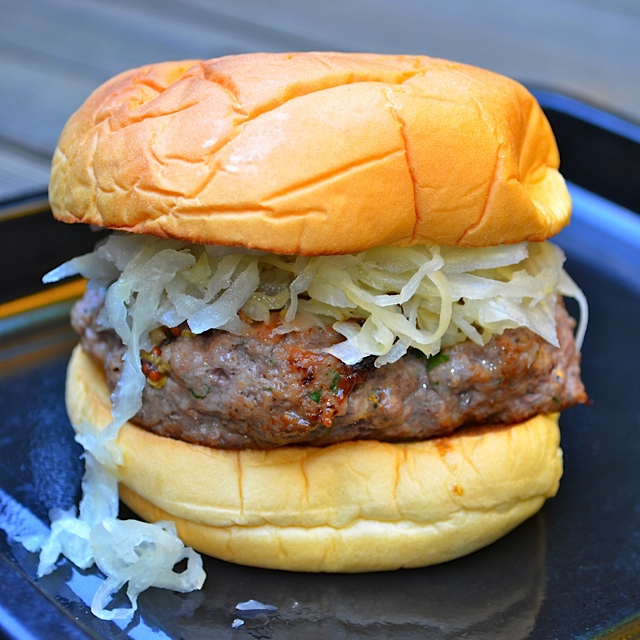 prepared by and photo by Emily S. Downs

No cheese on this burger.  A different twist to ground pork intense in flavor and moist.  (Grind the juniper berries in a spice grinder or coffee bean grinder if unable to locate ground berries.)

Size:

makes 4-6



Ingredients:
2 lbs freshly ground pork (or beef)
1 tbsp Kosher salt
1 tbsp ground juniper berries - in spice section (can substitute with 1/2 tsp celery seeds)
1 tbsp caraway seeds
1 tbsp black pepper
1/4 cup chopped parsley
1/4 cup sour cream
Vegetable oil
Sauerkraut (warmed)
Whole grain mustard as topping
Potato Burger Buns (or buns of your choice)



Directions:




Using your hands, mix in the salt, ground juniper berries, caraway seeds, and pepper in with the ground pork.  Mix in the chopped parsley and sour cream.

Form into patties, anywhere from 1/4 pound to 1/2 pound each.

Heat a teaspoon of oil in a frying pan on medium heat.  Add the burger patties to the pan, and cook slowly, 4 to 5 minutes each side, until the interior of the burgers reaches a temperature of 155F or no loner pink.  Alternatively, cook on a grill on medium heat, 4-5 minutes each side, until the burgers are cooked through.

Remove the burgers from the heat and toast the buns on the pan or grill.  Top each burger with a dollop of whole grain mustard and sauerkraut.