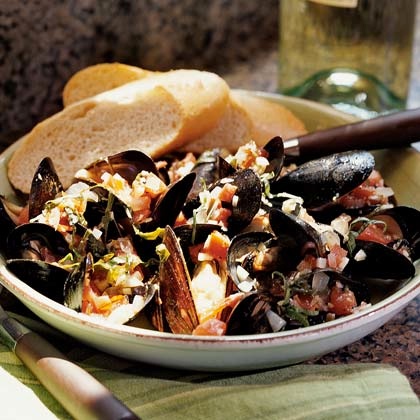 coastalliving.com

The Jersey Shore is loaded with mussels, so they are available on every menu close to the beach. But if you find you have a hankering and aren't near the shoreline, preparation at home can happen in a cinch. Bring a bit of the beach home with this simple method.

Size:

4 servings



Ingredients:
3 tbsp olive oil
1 small onion, chopped
6 garlic cloves, minced
1 cup dry white wine
2 large tomatoes, coarsely chopped
3 lbs fresh mussels, scrubbed
1/4 cup chopped fresh basil
2 tsp grated lemon rind
1/4 tsp freshly ground black pepper
2 tbsp butter
Warm, crusty bread



Directions:




Heat olive oil in a large, deep skillet over medium-high heat; add onion and garlic, and saute 3 to 5 minutes or until tender. Add wine and tomatoes, and bring to a boil. Add mussels; cover and cook 3 to 5 minutes or until mussels open. Discard any unopened mussels.

Remove mussels with a slotted spoon, and place in serving bowls. Add basil, lemon rind, and pepper to liquid in pan; add butter, and swirl in pan until melted. Spoon sauce over mussels. Serve immediately with warm, crusty bread.