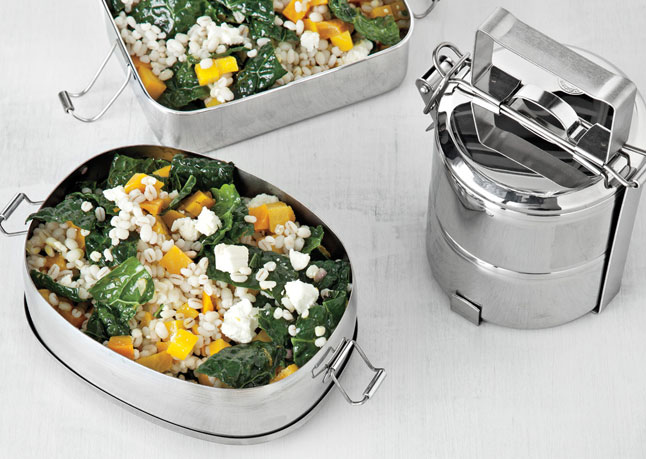 bonappetit.com
This recipe was recently published in bon appetit magazine… it looked (& tasted) so delicious and had so many good things in it, I had to pass it along!  One of those salads you should prepare a day ahead so the flavors meld overnight and intensify in flavor.  So loaded with yummy nutritious ingredients, you may feel and look a few years younger after a serving… click on the ingredients for an even more in-depth understanding of each components benefits.
* barley – controls blood sugar, lowers glucose levels, reduces blood pressure, as well as cholesterol
* beets – reduces blood pressure and boosts energy levels
* kale – high in beta-carotene (boosts immunity against diseases), full of potassium, folic acid and tons of vitamins
---
Chicken and Kale Casserole: 
So Yummy That You'd Never know It's Good for You.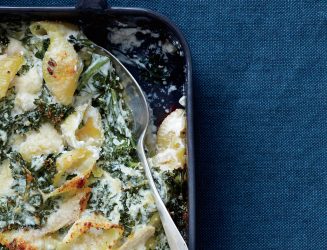 ---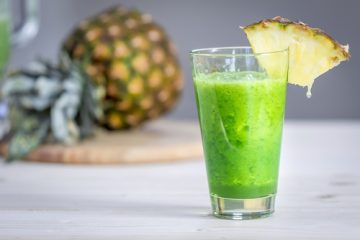 ---
Size:

4 servings



Ingredients:
1/4 cup plus 2 tbsp extra-virgin olive oil; more for drizzling
2 tbsp white wine vinegar
2 tsp (packed) light brown sugar
1/2 tsp finely grated orange zest
Kosher salt
Freshly ground pepper
1 bunch Tuscan kale (also called black kale, dinosaur kale, Lacinato kale), center ribs & stems removed, leaves cut into 1" squares
1/4 cup minced shallots
3 medium golden beets (about 1 bunch), trimmed (Whole Foods or Fairway)
1 1/4 cups pearl barely
4 oz feta, crumbled
2 tbsp (or more) unseasoned rice vinegar



Directions:




Whisk 1/4 cup oil, white wine vinegar, sugar, and orange zest in a large bowl to blend; season with salt and pepper.  Add kale and shallots; mix until kale is tender, at least 3 hours.

Meanwhile, preheat oven to 375F.  Arrange beets in a small baking dish and drizzle with a little oil.  Season with salt and turn beets to coat.  Cover with foil.  Bake beets until tender when pierced with a thin knife, about 45 minutes.  Let cool completely.  Peel beets.  Cut into 1/4″ pieces (you should have about 2 cups).

Cook barley in a large pot of boiling salted water until just tender, about 45 minutes.  Drain barley and spread out on a rimmed baking sheet; let cool completely.

Add beets, barley, and feta to kale.  Drizzle salad with remaining 2 tbsp oil and 2 tbsp rice vinegar; fold gently to combine.  Season to taste with pepper and more rice vinegar, if desired.  (Can be made 2 days ahead.  Cover and chill.)