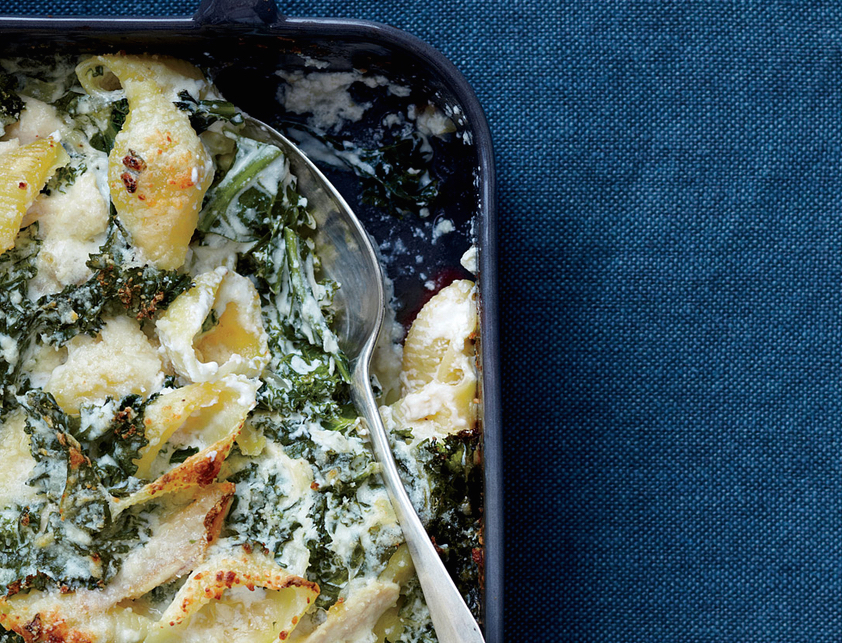 bonappetit.com

Trying to squeeze kale into meals may prove difficult, as kids stick their noses up just with the mention of it. Chicken, pasta and cheese serve as a quick disguise. A little bit of everything goes into this delicious weeknight entree.

READ: Is Kale Really That Good For You?

Size:

8 servings



Ingredients:
Coarse salt and ground pepper
3/4 pound large pasta shells or sub with gluten free
2 tablespoons unsalted butter or sub with ghee or grass fed butter
1 large yellow onion, diced medium
1-2 garlic cloves, minced (your preference)
2 bunches kale (1 1/2 pounds), tough stems and ribs removed, leaves coarsely chopped
2 cups shredded or chopped cooked chicken (from 1/2 rotisserie chicken)
1 container (48 ounces) part-skim ricotta
3 tablespoons finely grated lemon zest (from 2 lemons)
3/4 cup Parmesan, grated (2 1/4 ounces)



Directions:




Preheat oven to 350 degrees.

In a large pot of boiling salted water, cook pasta according to package instructions. Drain; return to pot.

In a large skillet, melt butter over medium-high. Add onion and garlic; cook until onion is beginning to soften, 4 minutes. Add kale, cover, and cook until almost tender, about 5 minutes. Transfer to pot with pasta.

Stir in chicken, ricotta, lemon zest, and 1/2 cup Parmesan; season with salt and pepper.

Transfer mixture to a 9-by-13-inch baking dish; top with 1/4 cup Parmesan. Bake until top is golden, 30 minutes.