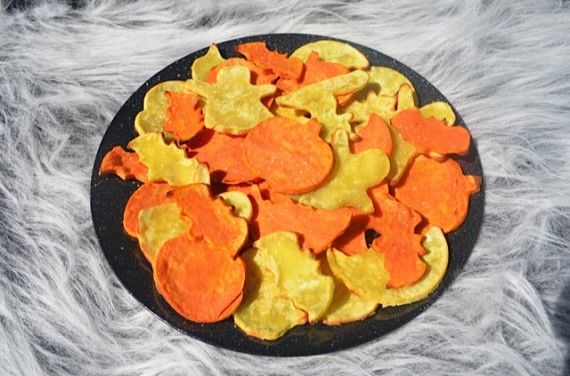 prepared by and photo by Emily S. Downs

Want your kids to eat sweet potatoes? There are cookie cutters for every season, holiday and occasion out there. Give these a whirl… Not all sweet potatoes are orange either. As you can see from this photo. Not only are they sweet… but full of Vitamin B6, C, D, Iron and Magnesium.

Size:

makes about 36



Ingredients:
4-6 large sweet or baking potatoes
Halloween cookie cutters
1/4 cup extra virgin olive oil
Coarse sea salt or kosher salt



Directions:




Preheat oven to 400F. Scrub potatoes clean and leave peel on. Slice lengthwise into 1/4″ slabs. Place in a bowl of cold water to keep moist and prevent discoloration.

Press out shapes with cookie cutters; if it's hard to press cutter through potato slab, tap with a rolling pin (I had to do this).

Pat shapes dry with a paper towel, brush with olive oil, and place on a nonstick baking sheet. Sprinkle with salt. Bake for 20-25 minutes, turning shapes once and checking frequently, until crisp on the outside and lightly browned around the edges. Serve immediately.