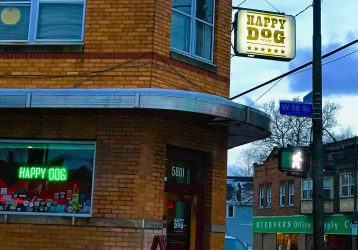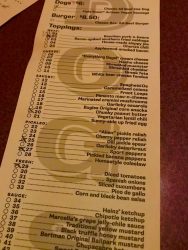 I'd wanted to try The Happy Hotdog for awhile and finally had the perfect opportunity on a recent visit to the zoo (yes, I am one of those crazy people that likes to visit the zoo year round–even on blistery, cold days.) I was with my 8 year old who jumped for joy at the idea of a restaurant that specialized in one of her favorite meals. The inside is dark and feels like a neighborhood bar. We sat in a cozy booth along the wall and marveled at the menu of possible toppings and dipping sauces. There were choices you'd expect like sauerkraut, baked beans, bacon, and mustard (although they do have a fancy, out-of-this-world black truffle mustard) And then there was the outrageous like fruit loops, Spaghettios and chunky peanutbutter.
For sauces, there are the usuals, some with a twist like the smoky, spicy chipotle ketchup and the crazy like grape jelly chili sauce or Japanese Yum Yum.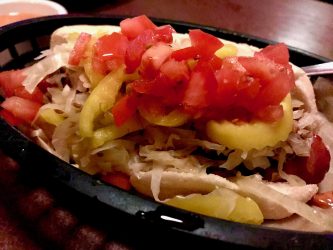 In the end, I settled on a dog with sauerkraut, banana peppers, chorizo chili, diced tomatoes, and honey truffle mustard. And my daughter had the usual: one plain dog no bun. Our neighbor had one I wish I'd tried with a fried egg (next time!) The hotdog itself was a really good hotdog–tasted great alone like my daughter had it. No matter how little or how much you had to your dog, the price is the same: $6. They also offer vegan-veggie dogs.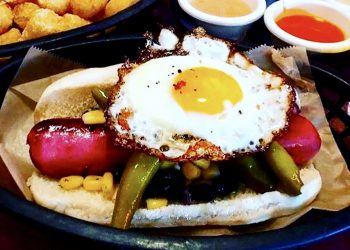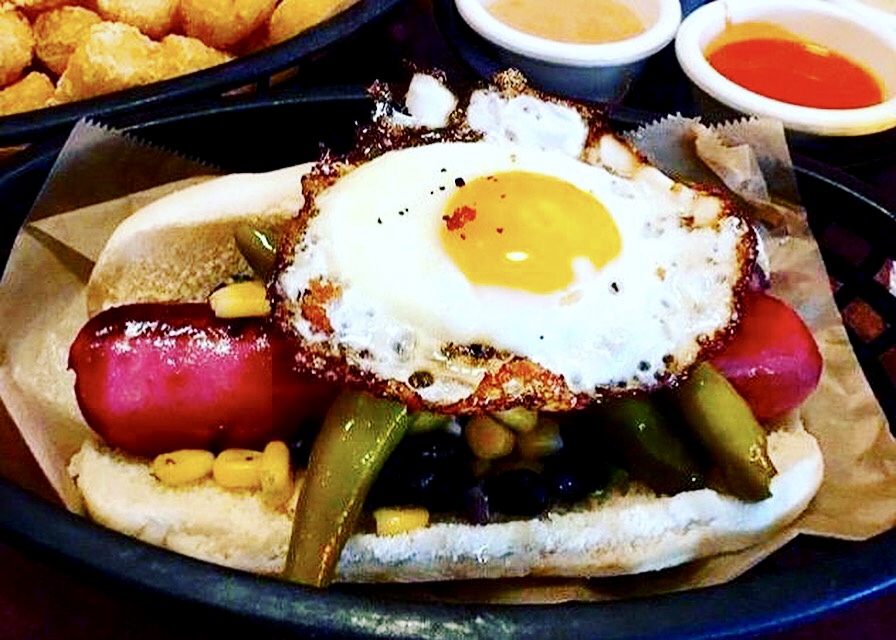 Even if you're not a fan of hotdogs, you're sure to enjoy the experience of being there and the outrageousness of the extensive menu of toppings. And you'll enjoy the sides: fresh cut fries (that were perfectly crisped on the outside and soft and hot on the inside), tater tots or sweet potato fries. Or check it out on their  Thursday Burger Night still with all 50 toppings available for your burger. They also serve bottles of pop like Orange Crush and Cream Soda.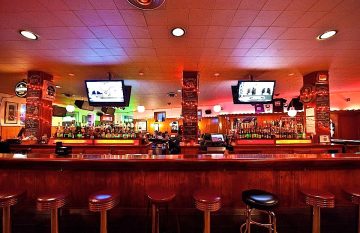 As we left, the joint became more lively with folks sitting at the bar and drinking beer. They carry over 75 beers including some unusual Eastern European beers like Karlovacko, Lasko and Okocim and have more than 20 beers on tap. Later in the evenings, they often have live music.
The Happy Hotdog, 5801 Detroit Rd, Cleveland, OH
---
A Summer Camp in Ohio That Has it All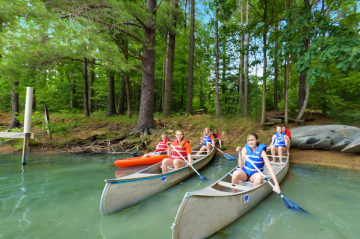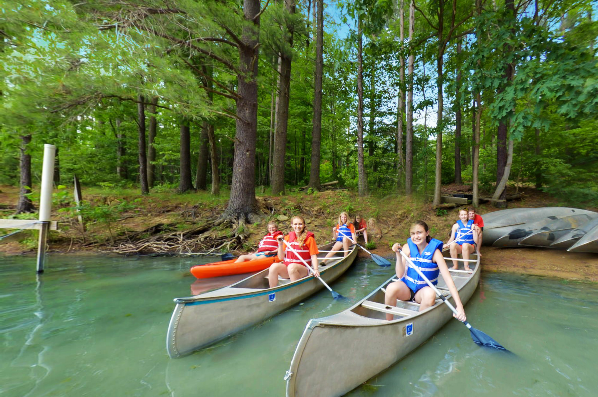 ---
Greedy Girl: Serving Up Greek & Indian Flavors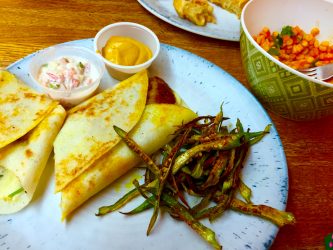 ---
Where to Take the Kids on Cold Winter Days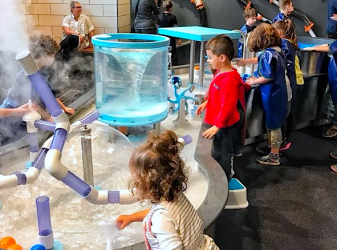 ---
Where to Eat Nitrogen-Made Ice Cream in Cleveland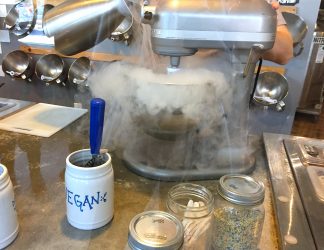 ---
15+ of Our Favorite Family Games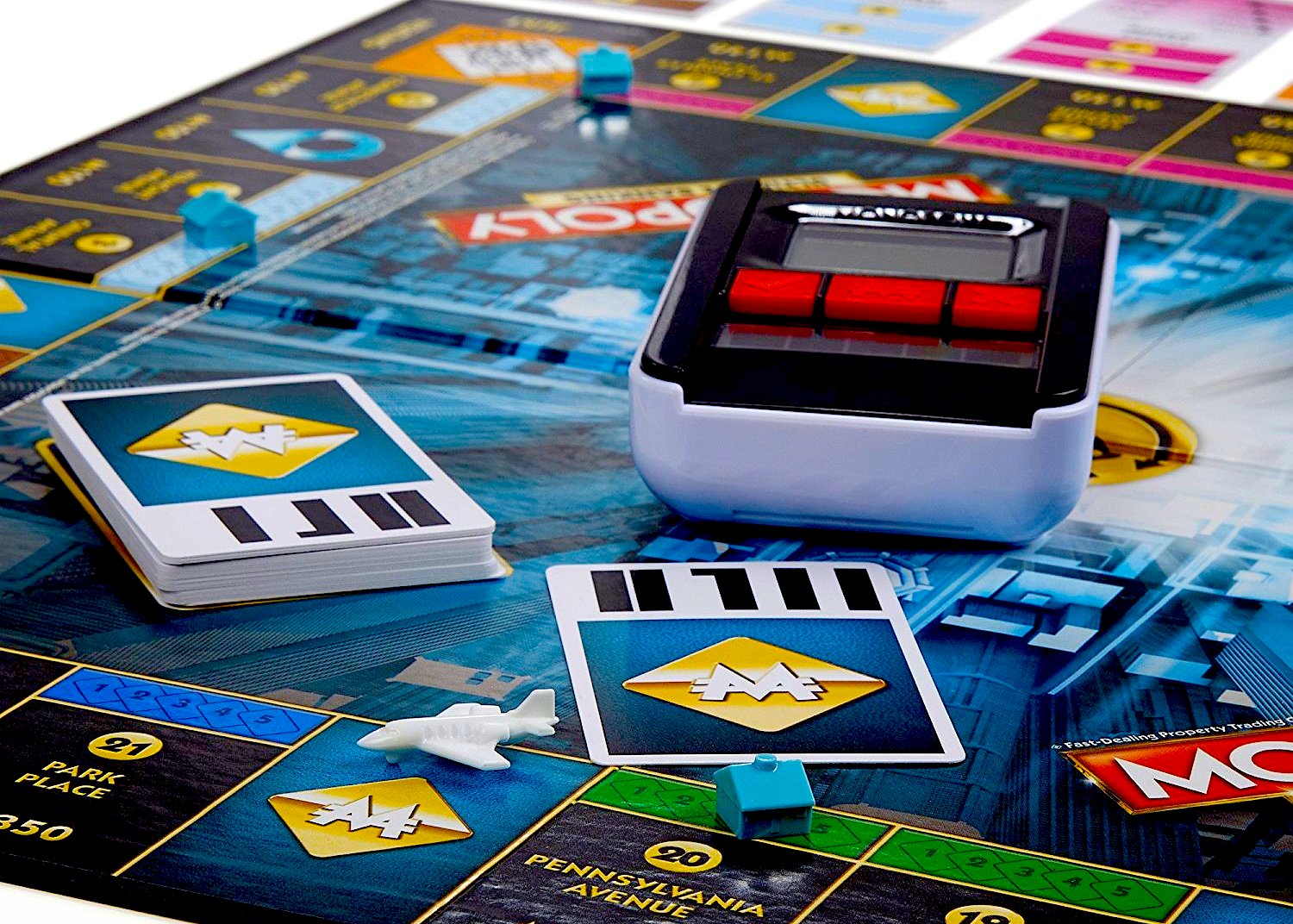 ---
Where to Get Fresh-Baked Cookies at 2am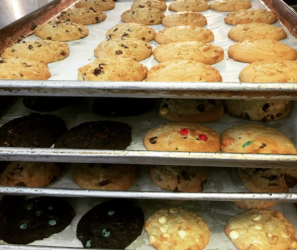 ---
20+ Things to Do on a Snow Day