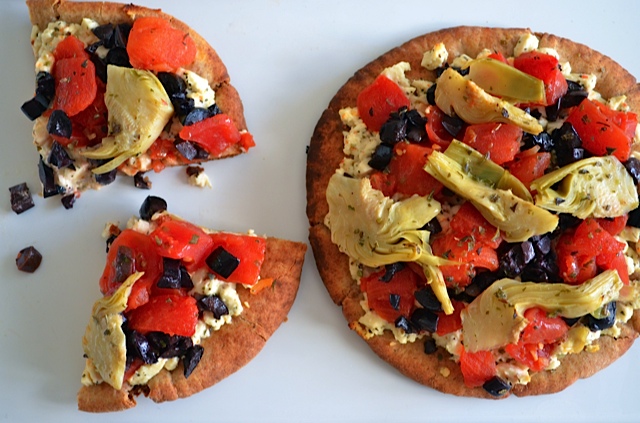 prepared by and photo by Emily S. Downs

Assemble these little masterpieces in a pinch.  A lot of yummy things happening on one pita bringing a little slice of the Mediterranean into your home.

Size:

2 servings: Can be doubled



Ingredients:
2 6" diameter whole wheat pita breads
1 6.5 oz jar marinated artichoke hearts, drained, marinade reserved, large pieces halved
1 5 oz container sun-dried tomato-and-basil flavored crumbled feta (or plain crumbled feta)
1 14.5 oz can diced tomatoes w/Italian herbs, drained well
1 cup pitted Kalamata olives or other brine-cured clack olives, coarsely chopped
2 tsp dried oregano



Directions:




Preheat oven to 450F.  Place breads on baking sheet(s).  Brush breads with some of artichoke marinade.  Bake until just beginning to color, about 3-5 minutes.  Cool on sheets 5 minutes.

Sprinkle with crumbled feta cheese, almost to edge.  Top with tomatoes, olives, oregano and artichokes  Drizzle with more of the artichoke marinade.

Bake pizzas until heated through, about 4 minutes.  Cut into wedges.