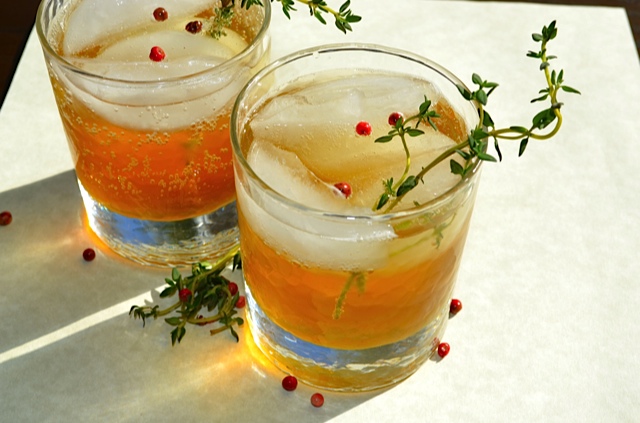 prepared by and photo by Emily Doscher

Refreshing yet has zing.  The peppery flare gives this non-alcoholic beverage just a slight kick while still "wettin' your whistle".  Perfect mocktail to warm the soul after a strenuous day of apple picking.

Size:

makes 8



Ingredients:
8 whole star anise (available in spice section)
2 tbsp whole pink peppercorns plus additional for garnish
1 tbsp whole cloves
3 cups water
1 cup sugar
1/2 cup fresh thyme sprigs plus 8 additional sprigs for garnish
Ice cubes
4 cups chilled club soda



Directions:




Toast anise, 2 tablespoons peppercorns, and cloves in small skillet over medium-high heat until aromatic, stirring often, about 2 minutes.  Wrap spices in triple layer of cheesecloth; tie shut.  Pound with rolling pin to crush spices lightly.  Bring 3 cups water and sugar to boil in medium saucepan.  Add spices in cheesecloth.  Remove from heat; cover and steep 15 minutes.  Add 1/2 cup thyme sprigs; cover and steep 10 minutes longer. Strain syrup into medium bowl.  Chill until cold.  (Can be made 1 week ahead.  Cover and keep refrigerated).

Fill 8 tall glasses with ice.  Divide syrup among glasses.  Add 1/2 cup soda to each glass.  Garnish with thyme sprigs and peppercorns.
---
You Gotta Try Frozen (Grown Up) Lemonade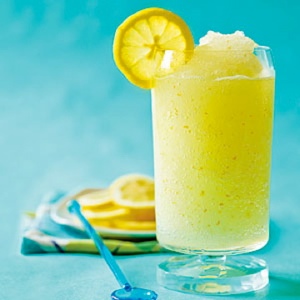 ---
---
Comfort Food: Warm Up with Shepherd's Pie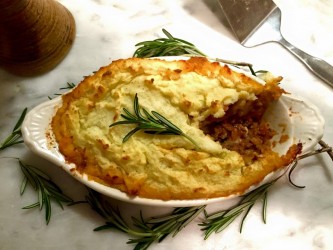 ---
 A Gooey, Juicy, Even a Bit Crunchy, Sloppy Burger You Will Love:
Nacho Burger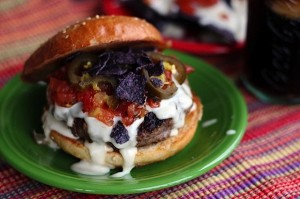 ---
Calling All Ice-Cream Fanatics! Try Our Waffle Ice Cream Sandwich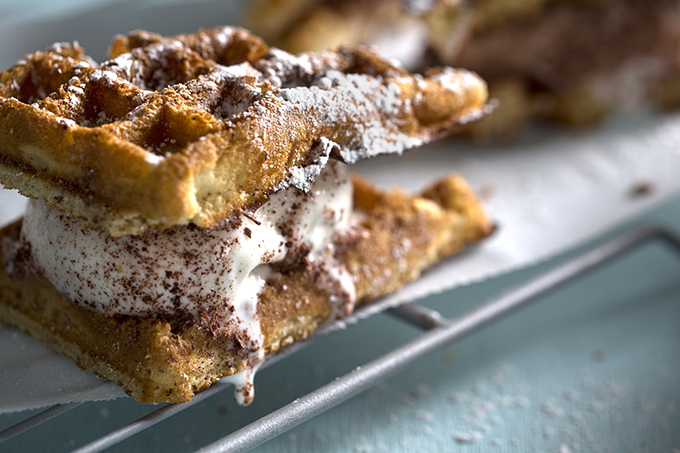 ---
Fish So Good…You Won't Even Realize How Healthy it is:
Zesty Creole Cod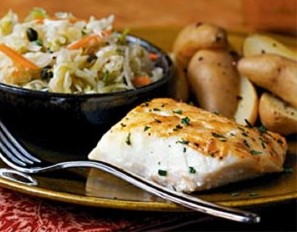 ---
Delicious Roasted Asparagus and Mushrooms with Parmigiana Reggiano.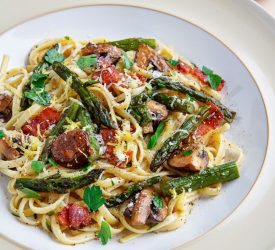 ---
Something Comforting, But Not Too Heavy:
Pork Sage Meatballs.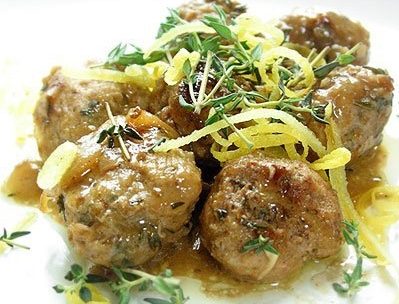 ---
A Tiny Little Seed That Packs a Big Punch of Nutrition.