Through Sunday, October 29, 2017
Over the last 20 years, I've had the pleasure of viewing Dale Chihuly's glass works of art in many places. Most notable, was at the Tower of David Museum in Jerusalem. To see that bright, colorful, fragile glass against the rough, craggy edges  of historic stone was a sight that has remained emblazoned in my mind.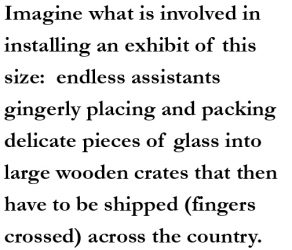 Now you can have a similarly moving experience; Chihuly's is having first major garden exhibition in New York in more than ten years at the New York Botanical Gardens. I remember reading about what is involved in installing an exhibit of this size:  endless assistants gingerly placing and packing delicate pieces into large crates that then have to be shipped across the country. And then to unpack and arrange these large ice-like pieces of glass, one on top of another, praying that nothing chips or worse…shatters.

The exhibition will showcase more than 20 installations and include drawings and early works that reveal the evolution and development of Chihuly's artistic process during his celebrated career. Set within NYBG's landmark landscape and buildings, this sensory-filled exhibition is a must-see throughout the changing seasons from spring through fall. With the backdrop of the beautiful gardens, you'll be able to take in Chihuly's organic shapes and brilliant color.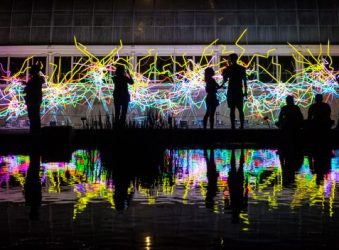 On weekends, there will be films, poetry, and fun-filled art programs for kids offer colorful and imaginative tributes to nature. On CHIHULY Nights, the exhibition is infused with a magical energy as the artworks are spectacularly illuminated amid NYBG's sweeping vistas and magnificent Conservatory.
See Chihuly at Night
Thursdays–Saturdays, September–October  •  6:30-10:30
On CHIHULY Nights, the exhibition is infused with a magical energy as the artworks are spectacularly illuminatedthe drama of the show is heightened when glass is lit under the evening sky. Enjoy performing artists and musicians, relax with food, and Avión Tequila cocktails. Adults: $38; Children (2–12): $18