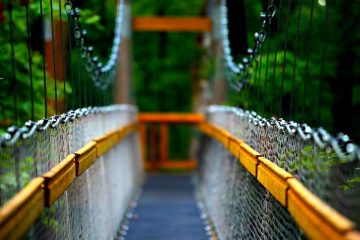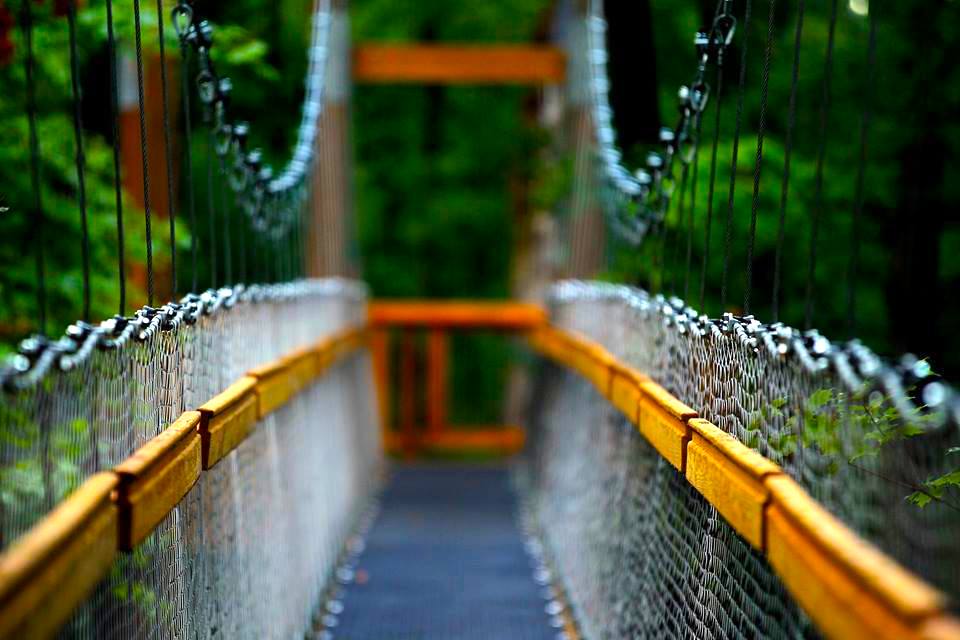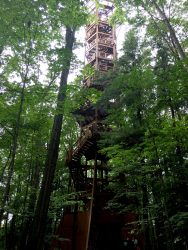 1. Walk in the Treetops
Walking to the treetops on the Canopy Walk at Holden Arboretum is truly a magical experience–even if it does make your legs feel a little like Jell-O! Keep your eyes peeled for all the small creatures that live in the forest.
Afterwards, burn a few calories and climb 12 stories in the Emergent Tower for an exquisite view of Ohio countryside and Lake Erie. While you're at the top, you can feel the tower sway so pick a day with no wind if you are faint of heart.
Holden Arboretum, Sperry Road, Kirtland OH.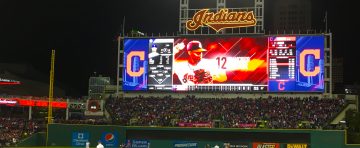 2. Catch One Last Game with the Tribe.
Even though the games are packed, you can usually get a seat especially on a weekday. Root for your favorite condiment, grab a dog and say goodbye to "Slider." For Indians tickets, go to indiansmlb. Tickets start at $15.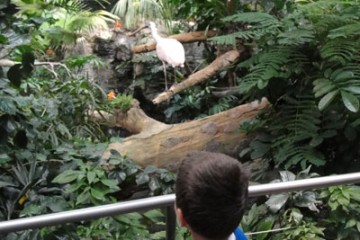 3. Take a Trip to the Rainforest
So what if you didn't travel internationally this year. Spend the day at the Cleveland Metropolitan zoo rain forest, and you'll feel like you have. Experience the humid, moist air, and birds fly above you and monkeys screech. Our favorite inhabitants are the porcupine and the orangutans. We could sit and watch the orangutans for hours; they are so frighteningly human that sometimes I feel like we are the entertainment. Cleveland Metroparks Zoo, 3900 Wildlife Way, Cleveland OH 44109.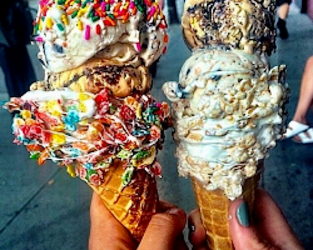 4. We All Scream for Ice-Cream
We all have our favorite so it's hard to tell you which one to choose. You might have one day left for each of our favorites:
Mitchell's, always a favorite on 2101 Richmond Road at LaPlace, Beachwood, OH or locations.
Sub Zero makes rolled ice cream and just opened on Coventry Road.
Piccadilly on Euclid makes amazing liquid nitrogen frozen ice cream that is locally sourced is out of this world!
Honey Nut, selected as Cleveland's favorite by the Plain Dealer, 28300 Miles Rd, Solon, OH.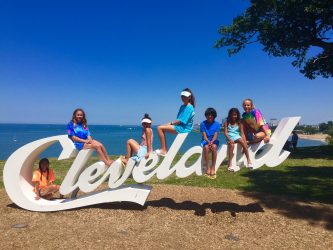 5. Visit Cleveland, the Sign That is.
I admit that this was on my list for a while and the only reason I finally did it was because I got lost going to the beach. But it was well worth it. The view is incredible and promises a great 2017 Holiday card this year! Edgewater Park.
6. Spend the Day at the Beach
Sometimes we forget how lucky we are to live near a lake that feels so much like the ocean. After you visit the Cleveland sign, grab a blanket and head down to the beach. The snack bar sells everything from nachos and hamburgers to beer and wine. It truly is a place for all Cleveland comes together so enjoy the people watching! Edgewater Beach,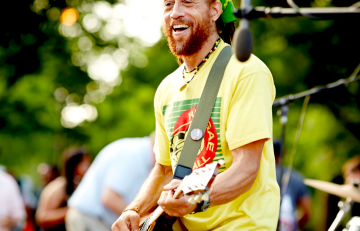 7. Enjoy a Citywide Block Party... because that's what it feels like when you hang out at Wade Circle on Wednesday nights. Run into people that you know, listen to live music, and let the kids run wild. Wade Circle, 10831 Magnolia Drive, Cleveland.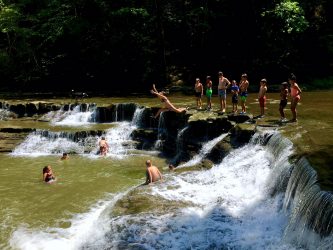 8. Jump through the Falls.
Take a short hike to Squaw Rock in and beyond as you wade through the water to the falls. For those that are brave enough, you can jump down below. Otherwise, stand right beneath the falls and let the cool water pour over you. Cleveland Metroparks.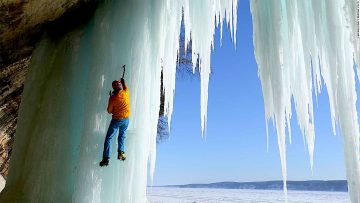 9. See a movie in the middle of the afternoon.
Didn't make our west this summer? No worries. You can experience Yellowstone, the Everglades and Yosemite in under 90 minutes. If you want to get swept away, go to Cleveland science center and experience their giant domed theater. The screen soars six stories high and surrounds you with breathtaking, multi-story images and 11,600 watts of ultra-real digital sound! For tickets, visit Cleveland Science Center.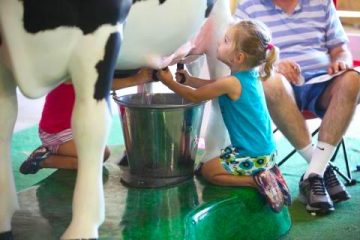 10. Enjoy an Old-Fashioned County Fair.
The Cuyahoga County Fair is 121 years young and goes through August 13. Eat fried food that you never knew could be fried; ride the Gerri's wheel; watch the demolition derby; listen to Pink Floyd during an evening late and fireworks show; and meet some of Ohio's biggest and best horses, cows, and pigs. Cuyahoga Fair Info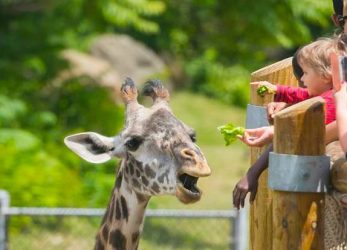 11. Feed the World's Largest Mammal
---
10 Reasons I'm a Better Mom in the Summer (
starting with the drink in my hand.)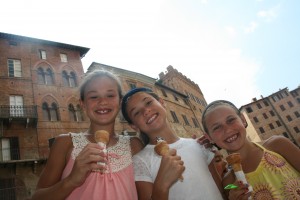 ---
Thinking About Getting Away? Check Out These All-Inclusive Family Get-Aways.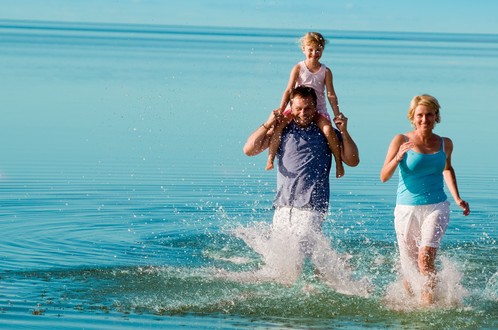 ---
The Magic Number of Calories You Need to Burn…to Lose a Few Pounds. 
I Did This…and It Worked!!!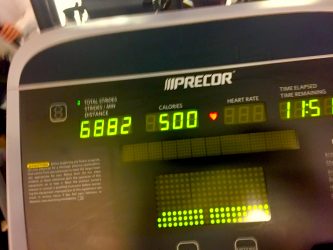 ---
4 Tips to Ending Trickle Down Anxiety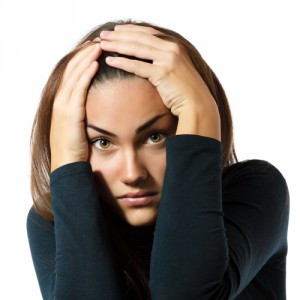 ---
Why is Everyone Crazy About Kale?!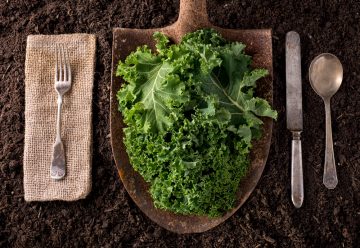 ---
Should You Add Apple Cider Vinegar to Your Diet?