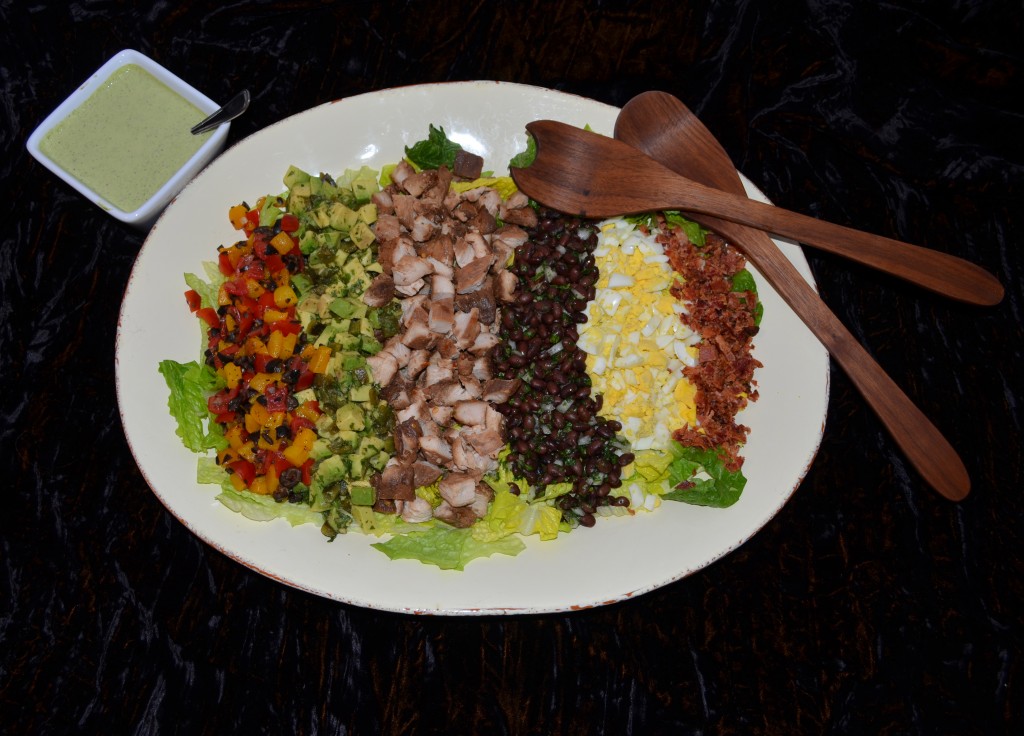 prepared by and photo by Emily Doscher

Not only does this salad offer a pretty palette but a solid meal for the entire family.  Incorporates all of the important food groups and the Green Goddess Dressing is the "cherry-on-top."  Give yourself some time to marinate the chicken… roast the peppers… and assembling (most of the prepping can be done the day before).

Size:

serves 6-8 as a main dish



Ingredients:
1/4 cup freshly squeezed lime juice, plus juice of 2 limes
6 tbsp extra-virgin olive oil
1/4 cup soy sauce
1 tsp ground cumin
1 tsp crushed red-pepper flakes
4 boneless, skinless chicken-breast halves
4 large hard-boiled eggs (in most salad bars of grocery stores)
1/2 lb thick -sliced bacon
1 yellow pepper
1 poblano pepper
1 tomato, seeded and cut in 1/2? pieces
1/2 cup roughly chopped pitted black olives (2 1/2 oz)
1 small-medium sweet onion, cut into 1/4? pieces
Coarse salt and freshly ground black pepper
2 ripe but firm Hass avocados, peeled and cut into 1/2? pieces
1/2 cup chopped fresh cilantro
1/8 tsp ground cayenne pepper (optional)
1 can black beans, rinsed and drained
1 small head romaine, torn in 1? pieces
Green Goddess Dressing



Directions:




Combine 1/4 cup lime juice, 1/4 cup oil, soy sauce, 1/2 tsp cumin, and red pepper flakes in a small bowl.  Place chicken breast in a large resealable plastic bag.  Pour marinade into bag, and refrigerate at least 1 hour or overnight.

Heat a grill, grill pan (skillet can be used as well) over medium-high heat.  Lift chicken from bag, allowing excess marinade to drain off.  Cook until grill marks appear and chicken is cooked through, about 5 minutes per side.  Cool chicken completely, and cut into 1/2? piece; set aside.

Roughly chop hard-boiled eggs and set aside.

Cook bacon until crisp, and drain on paper towels.  Crumble when cool; set aside.

Place yellow and poblano peppers directly on the trivet of a gas burner over high heat or on the grill or grill pan used for chicken.  Turn pepper with tongs as they char.  (Alternately, place peppers on a baking pan; broil in oven, turning as each side becomes charred.)  Transfer to a large resealable plastic bag and seal.  Let peppers sweat until cool enough to handle.  Peel of blackened skin and discard.  Remove seeds; chop yellow pepper into 1/2? pieces and poblano into 1/4? pieces; set aside separately.

In a bowl, combine yellow pepper, tomato, olives, and half the chopped onion.  Sprinkle with slat and pepper; set aside.  In another bowl, combine poblano with avocados 1/4 cup cilantro, lime juice, cayenne pepper (if using), and remaining 1/2 tsp cumin; season with salt and pepper; set aside.

Arrange romaine on a platter.  Arrange chicken, eggs, bacon, tomato, avocado, and bean mixture in sections across the romaine.  Drizzle with dressing; serve.