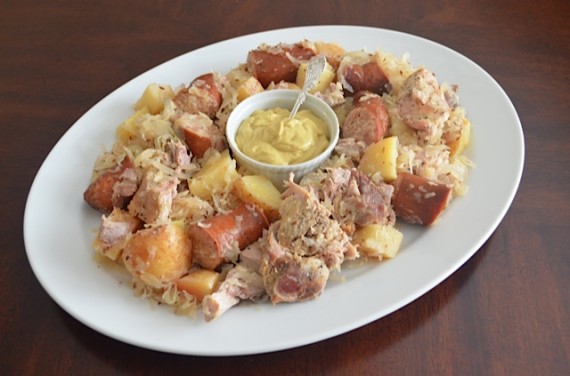 prepared by and photo by Emily Doscher

Oktoberfest has come and gone in Germany, but don't let that stop the rest of us from celebrating anytime of the year. Placing a twist on traditional pork and sauerkraut by adding kielbasa, onions and potatoes, along with several spices offers your family a little taste from the old country.

Size:

serves 4-6



Ingredients:
1 medium yellow onion, halved and thinly sliced
Kosher salt
Freshly ground black pepper
2 lbs prepared sauerkraut, drained and excess liquid squeezed out
2 tsp caraway seeds
10 black peppercorns
5 juniper berries
2 bay leaves
1 lb Yukon Gold potatoes, scrubbed and cut into roughly 1 1/2" chunks
2 lbs boneless country pork spareribs, cut crosswise into 3" pieces
12 oz cooked kielbasa, cut crosswise into 3" pieces
1/2 cup low-sodium chicken broth
1/2 cup dry white wine
Dihon or whole grain mustard, for serving (... a must!)



Directions:




Place the onion in a large bowl, season with salt and pepper, toss to coat, and place in the slow cooker. Place the sauerkraut and caraway seeds in the bowl, season with ground pepper, toss to combine, and lay evenly over the onions.

Place the peppercorns, juniper berries, and bay leaves in a 5 x 5″ piece of cheesecloth, tie tightly with butcher's twine, and tuck the packet into the sauerkraut. Place the potatoes in the bowl, season generously with salt and pepper, toss to coat, and place in an even layer over the sauerkraut.*

Generously season the spareribs all over with salt and pepper. Arrange the spareribs and kielbasa over the potatoes in an even layer. Pour the chicken broth and wine into the slow cooker.

Cover and cook on low heat until the spareribs are fork tender and almost falling apart, about 6-8 hours (I lean towards 8). Remove and discard the cheesecloth with the spices. Arrange the meats, potatoes, sauerkraut and onions on a serving platter and drizzle with any remaining juices. Serve with mustard.

* If you don't have cheesecloth and butcher's twine, just put these items directly in the pot and remove before serving.