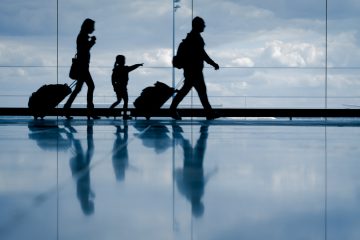 They say travel broadens the mind. If you are the type of guy who likes to explore new places and experience new things, we have 5 accessories to make your trip comfortable and hassle-free. The world is a truly amazing place. Nothing beats seeing a new view from a strange bedroom window and eating in a restaurant where nothing on the menu makes sense. However, there are some accessories no fashion conscious guy should have to live without, even when living out of a backpack.
1. Quality Luggage
Never underestimate the importance of taking quality luggage with you on your trip. Cheap bags split, burst open, or look awkward at the check-in desk. Briggs and Riley luggage or similar offers a completely different travel experience. Instead of being embarrassed at the luggage carousel, you can reclaim your designer luggage with pride. Quality luggage also lasts a lot longer, and this set from Briggs and Riley comes with a life time guarantee, so in the long-term it is much better value.
2. Leather Passport Holder
Your passport is the most important document you own. Without a passport, you won't be able to leave the country – or return, should you lose your passport along the way. Instead of tucking your passport into a pocket, invest in a stylish leather passport holder. This will keep your passport safe and make it easier to find in a hurry. It also looks improves your status at the check-in desk.
3. Slip-On Shoes
These days, travellers have to remove all kinds of items before they pass through high-tech security scanners. Shoes, belts, and hats must all be removed, which inevitably takes time. If you wear a comfortable pair of slip-on leather shoes, you can cut down queuing time when you pass through security. Choose a designer pair made from soft leather, so they feel as good as they look.
4. Designer Sunglasses
You can't travel without a pair of trusty designer sunglasses. Aviators are always popular with men, but try a few pairs on and see which style best suits your face shape. If in doubt, ask a friend for feedback before you buy.
5. Plain White Tees
It is often difficult to decide what clothing to take on a trip, especially if you are travelling light. Plain white t-shirts are a good choice because they go with literally anything. White cotton is extra absorbent and perfect for hot climates, plus it hides sweat patches better. Pack at least three for your trip, so when one gets dirty or smelly, you can swap to the next one. For best results, invest in good quality t-shirts made from thick cotton, as they will retain their shape better after multiple washes.  
The only other fashion accessory you need when traveling is some top quality noise-cancelling headphones. Go for Bose, as these score the highest for comfort and performance.