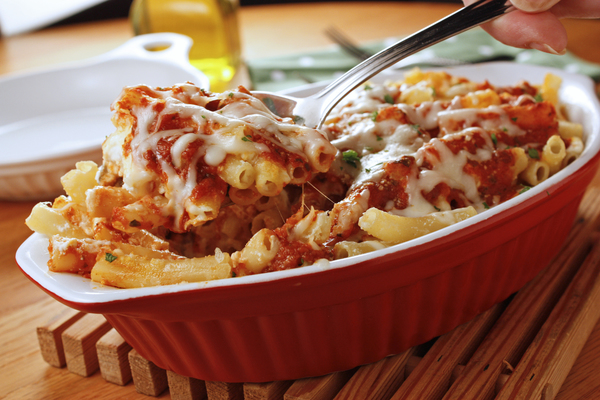 Say yes to the casserole tonight.  A bunch of Italian ingredients thrown together in one dish.  YUM!  Also a great meal to transport to a friend's, a weekend gathering or to someone deserving of a home-cooked meal.  Just simply cover with foil and reheat in oven at 375F.

Size:

makes 8 servings



Ingredients:
3 cups dried bow tie, penne, or ziti pasta (8 oz)
2 medium red onions, cut into thin wedges, OR 5 leeks, sliced (about 2 cups)... I prefer leeks
1-2 cloves garlic, minced
1 tbsp butter
1 (24-26 oz) jar tomato pasta sauce (I prefer Rao's Marinara)
1 8 oz can tomato sauce
1 10 oz package frozen chopped spinach, thawed, and well drained
1 1/2 cups cubed lean cooked ham
2 medium tomatoes, seeded and chopped
1/3 cup grated Parmesan cheese
2 cups mozzarella or Muenster cheese
Grated Parmesan cheese
Italian (flat-leaf) parsley sprigs, finely chopped



Directions:




Preheat oven to 350F.  In a large pot, cook pasta according to package directions.  Drain; rinse pasta with cold water.  Drain again.

In the same pot, cook onions (or leeks) and garlic, covered, in hot butter for 8 to 10 minutes or until onions are tender, stirring occasionally.  Stir in the cooked pasta, jarred pasta sauce, tomato sauce, spinach, ham, tomatoes, and the 1/3 cup Parmesan cheese.  Spoon mixture into a 3-quart rectangular baking dish.  Cover dish with foil.

Bake for 30 minutes or until heated through.  Increase oven temperature to 400F.  Top pasta with mozzarella cheese and, additional Parmesan cheese.  Bake, uncovered, about 5 minutes more or until cheese is melted.  Let stand for 5 minutes.  If desired, garnish with parsley.