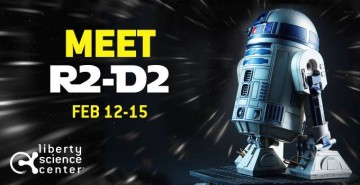 Friday, February 12 through Monday, February 15, 2016
Times:  9:00 am – 6:00 pm every day, with special Star Wars activities from 11:00 am – 3:00 pm
Dress up as your favorite Star Wars character, and receive a $5 discount on your admission.
A four-day weekend filled with Star Wars-themed activities to welcome Liberty Science Center's new R2-D2 as he settles into his permanent home.  You can say hello and have your photo taken.
A special Tesla Coil Show features the music of Star Wars.
501st Stormtrooper Legion and Mandalorian Mercs go on the march inside the center.
The Museum Café will have space-themed specials while playing Star Wars cantina music.
Train in the Jedi Academy and earn a Jedi Academy diploma upon completion.  (11:00am to 3:00pm)
In the Jedi trial, you complete the mastery of the force. Find out if you have mastered the force by lifting an object up like other master Jedis.
Then as your final task as a Jedi, design your own lightsaber at the Build Your Own Lightsaber station.
In addition:
Enter the Wookie Call Contest
Visit the Dronesium Fly a drone station. It's great practice for flying the Millennium Falcon.
At Design-a-Droid, you can dream up a droid to go into battle with you.
AND the Battle of Yavin Training The Rebel Alliance needs your help. Practice taking down the Death Star to help save the galaxy.
As an added bonus, you can meet Sid the Science Kid!