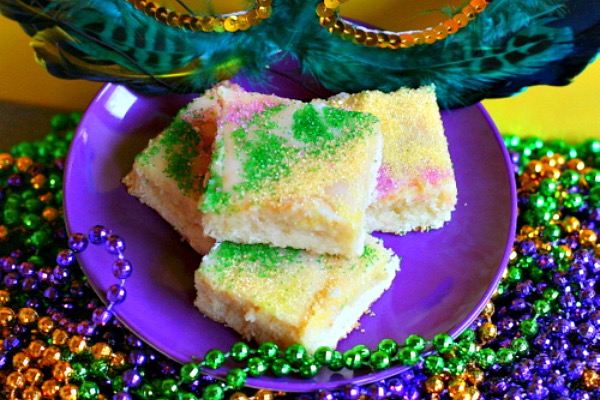 photo creds: csmonitor.com

A twist on the typical Mardi Gras King Cake. This version, found on csmonitor.com, takes on a cheesecake bar form. Festive sprinkles, flaky crust and moist cheesecake center makes for the perfect sweet treat.

Size:

about 15-16 bars



Ingredients:
CRUST:
2 cups all-purpose flour
1 cup (2 sticks) cold butter
6 tbsp sugar
2 tbsp milk
FILLING:
2 (8 oz) blocks cream cheese, softened
1 cup sugar
1 egg
1 tsp vanilla extract
1/2 tsp cinnamon
GLAZE:
1 cup confectioners' sugar
2 tbsp milk
Colored sanding sugar or sprinkles (purple, green and gold)



Directions:




CRUST: Preheat the oven to 350F. Spray a 9×13″ glass baking dish with cooking spray.

In the bowl of a stand mixer, mix the flour and sugar. Drop in the butter cubes and beat on low speed until the mixture is crumbly and looks a bit like wet sand. Add the milk and beat until it starts to stick together. Sprinkle the mixture into the prepared baking dish and press it in to form an even layer, making sure there are no holes or gaps.

FILLING: Wipe out the mixer bowl and rinse and dry the paddle. Beat the filling ingredients together until completely smooth. Spread the filling evenly over the prepared crust. Bake the bars for 20-25 minutes until the crust is golden brown and the filling is set.

GLAZE: While the bars are cooking, whisk together the confectioners' sugar and milk until completely smooth. As soon as you remove the bars from the oven, spread the glaze in an even layer across the top. Immediately decorate with sanding sugar. Leave the bars to cool completely, then slice.