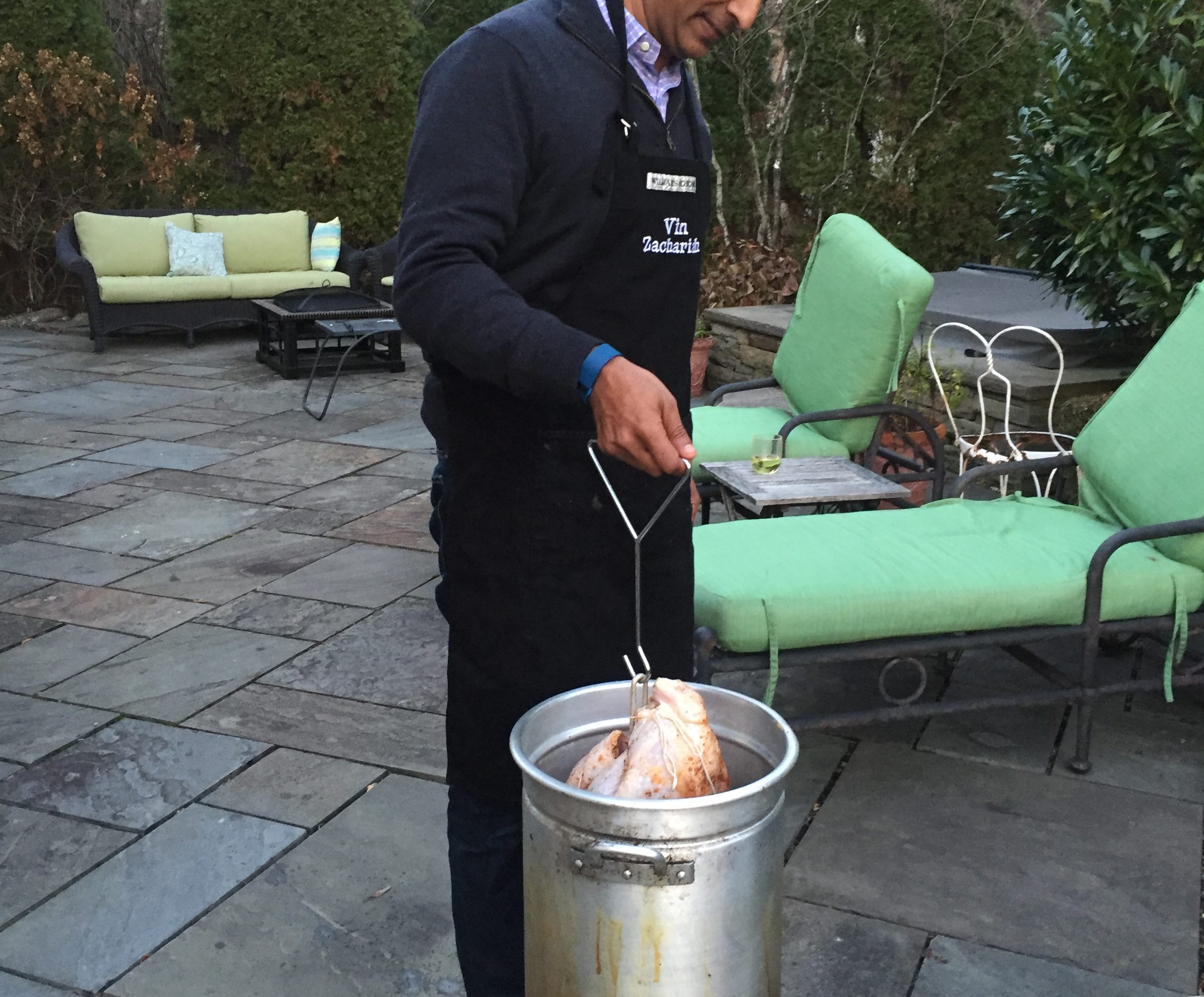 See All of Our Staff's Favorite Thanksgiving Recipes.
It's become our family tradition that my husband fries our turkey every Thanksgiving. While I'm inside cooking the side dishes, he's outside with his cocktail and whatever men-folk he can lure away from football. I'm telling you, this is the best turkey you will ever have. We do two 11 lb turkeys.
The first time we did this, we set the fried bird on the counter and the next thing I knew, our guests had picked it apart like vultures…before we even got the bird to the table! So, this is our tradition now: we make the first bird spicy and put it out with the appetizers. Everyone goes for the skin; it's a bite of heaven, crispy, salty, spicy goodness. We then carve the second turkey at the table.
Plus:
• It's ready in 30 minutes.
• It frees up an oven.
• And lets me off the hook for the biggest part of Thanksgiving dinner.
Preparation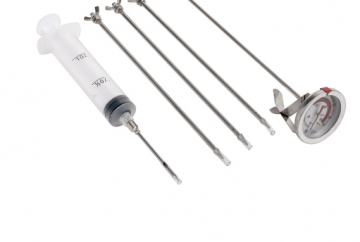 Make sure you your pot is big enough to fry the turkey with oil. If you are unsure, put a FROZEN turkey into pot and the fill with water until turkey is submerged. Take turkey out and then mark where the water level is without turkey. That is how much you should fill with PEANUT oil. (Typically it is about 3 gallons).
Thaw the turkey beforehand. You can imagine what ice does when it hits 350 degrees Start thawing the turkey in the fridge a few days in advance. Click here to find out how many days you need.
The night before, apply a rub to the turkey and inject it with a marinade. You can buy pre-made marinades at the store. My husband simply injects one turkey with beer and the other with hot sauce. Your turkey fryer kit will come with an injector. Then, place the turkey in a cooking bag and return to the fridge.
Time to Fry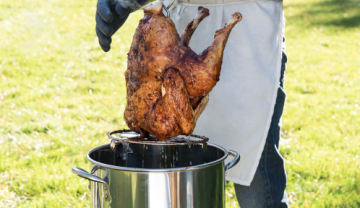 1. Fill pot with oil without turkey and preheat to 350 degrees. It may take up to hour. My husband prefers to pre-heat with a cover off so that when you fry the turkey without the cover on, you don't lose the heat.
2. Once heated, lower the thawed turkey slowly into the oil. Go slow and wear long sleeves and a cooking glove. Don't let the steam scare you and do not drop the turkey in.
3. Cook for 4 minutes per lb (44 minutes for an 11lb bird).
4. Remove turkey slowly. Let sit for 10-15 minutes.
5. Devour the skin…then the meat.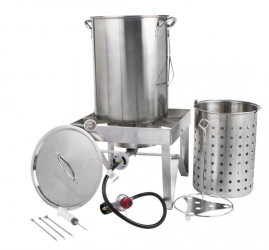 Safety: 
• You have to use peanut oil or an oil with a high flash point. Regular cooking oil can catch fire at the cooking temperatures we are taking about.
• Make sure to wear long cooking mitts.
• If it's raining, you need to seek cover. One year, we fried our turkey in the garage.
• Do not drop the turkey in; lower slowly.
Buying a Fryer
You can buy a turkey fryer from places Amazon, Lowe's, Walmart or restaurant supply stores. They start at around $100. We found the Bayou Classic 30 Quart Pot
 on Amazon Prime.
---
From the Turkey to the Sides,
We Have All The Recipes that You Need for Your Thanksgiving Dinner.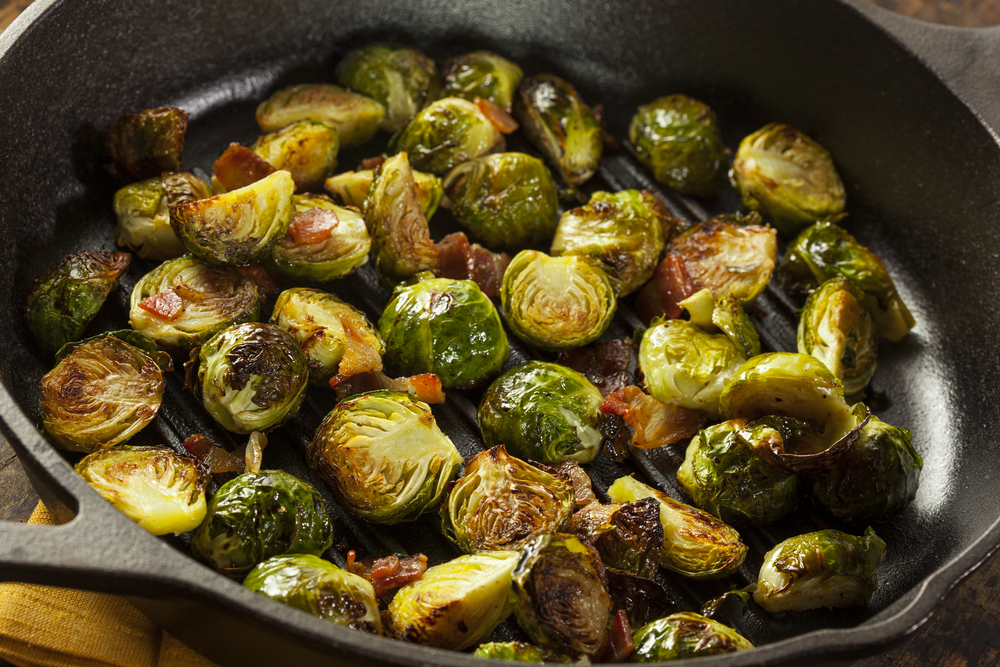 ---
Cranberries with Cherries & Cloves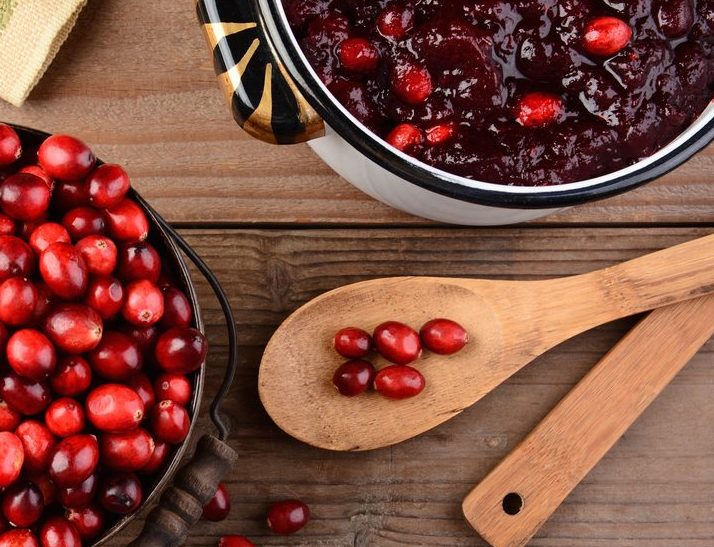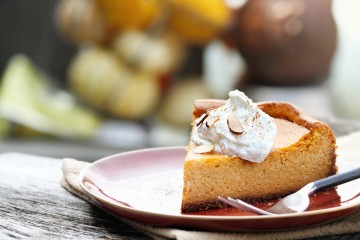 Spiced Pumpkin Pie with a Gingersnap Crust.
---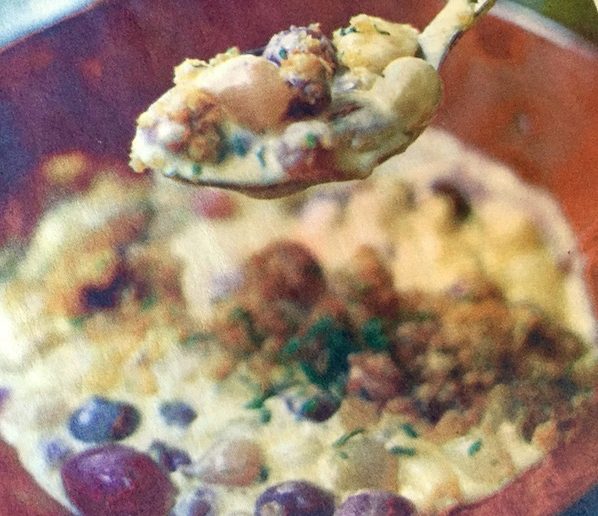 Creamy Red and White Pearl Onions
---
The Question of Going Gluten-Free.
Should you go gluten free? The answer is maybe.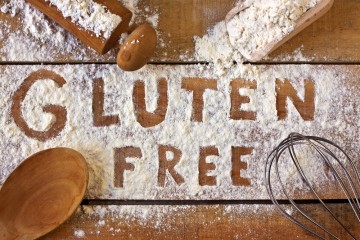 ---
Is chocolate good for you? Find out the heart-healthy benefits of chocolate.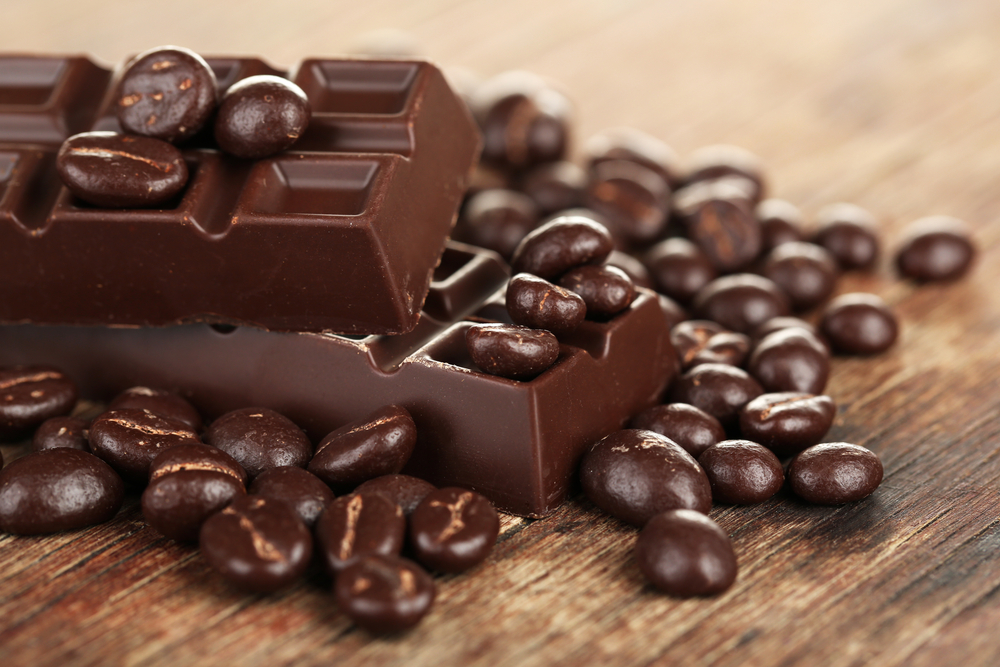 ---
Thinking About Getting Away? Check Out These All-Inclusive Family Get-Aways.