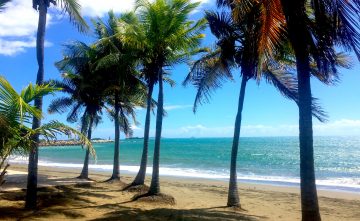 When we plan our beach get-away with our 3 kids, we usually base our decision on 3 criteria:
1. It has to be direct flight that's around 4 hours.
2. A sure bet for 80 degree weather (which means Florida is off the list in from November to February.)
3. Some place where we can get a little culture and adventure. 
Puerto Rico and Mexico have been our favorite vacations with our kids. Here's why:
• The 3 1/2 hours direct flight.
• No customs to slow you down; no passport; no exchanging money.
• Renting a car and getting around is fairly easy.
• You can choose to have all the comforts of him (Walmart, Macys, McDonalds) or you can stay off the beaten path and escape from the familiar.
This time, we had one more requirement: finding a place where we could use our Hilton miles. We'd accrued a ton of points with Hilton (a benefit of having a husband who is on the road all the time). This was the second time we'd gone to Puerto Rico; the first trip was to Fajardo on northeastern coast; This time we wanted to see what life was like on the southwestern coast in Ponce.
Getting to Ponce
Ponce is much slower and more laid back compared to San Juan. The drive to Ponce drive from San Juan airport is about an hour and a half and is beautiful—winding roads that make their way through grassy rolling mountains that look like folds of green velvet. Driving in PR is easy—and, admittedly, I am not a confident driver. On the drive in, you can make a stop at Walmart and load up on drinks, wine, beer, snacks, sunscreen, beach toys so you can pack lightly.
Where We Stayed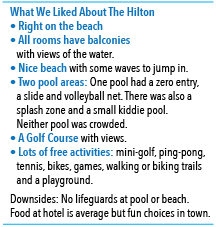 We stayed at the Hilton Ponce Beach & Golf Resort. Because we are a family of 5, we reserved 2 adjoining rooms. We lucked out and were given a corner suite with an adjoining room. The room rates were very reasonable: $180 a night. The hotel sits right on the beach. All the rooms have balconies with views of the water. The pool had a zero entry, a slide and volleyball net. There was also a splash zone and a small kiddie pool. The pool was never crowded; most people come for the golf. The beach had some nice waves that the kids enjoyed jumping. I'd recommend sand shoes; the sand was mostly soft but there were some areas with shells. The only down side was that there was not a lifeguard. There is another lovely pool and beach area that you can shuttle to near the golf course. So at times, we felt like it was our own private pool. There were plenty of areas to sit that offered shade or sun.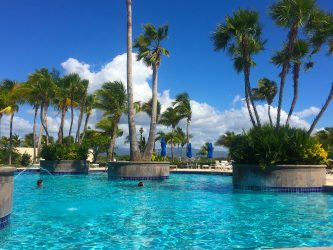 There was an activity house that had everything from board games and books, to sand toys, soccer balls and ping pong. From our strategically positioned chairs, we keep an eye on the kids while they played ping-pong; 18 holes of miniature golf; or tennis. The courts near the pool were very informal and free racquets and balls were available at the activity hut. They also had free bikes of all sizes and helmets.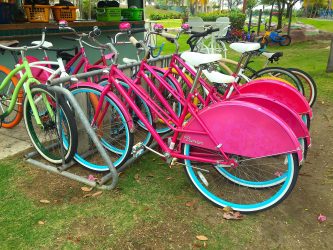 There were formal lit tennis courts as well. My husband and kids signed up for private lessons with the tennis pro. My husband told the pro, "Don't go easy on me" and he returned barely able to walk. My 10 year old loved him and took 2 private lessons.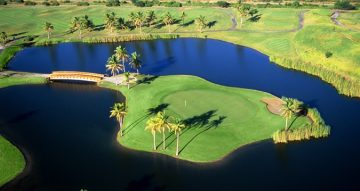 My husband usually plays golf but didn't on this trip but we heard good reviews from golfers we met. The course has views of the Central Mountains and the Caribbean. We also found out that Hilton offered a great  "golf and stay package" for just $50 more a night.
Where and What to Eat
 I had my heart set on pasteles (tender beef and rice wrapped and cooked in plantain leaves) and the concierge, Jose, said, "No problem. I know a woman who can make them and bring them here for you. I can find anything you want."
At the Hilton 
If you choose to stay at the hotel for your meals, the food was decent, nothing special, but a good value with the kids. I didn't feel like I was being ripped off. The hotel had a great breakfast buffet that you can fill up on. Kids eat for free. They had the usual Hilton menu: salads, burgers, fish and every night there was a special for only $8.50 like baby back ribs, beer battered fish.
One evening, we brought the kids to Sancho's Sushi Bar at the Hilton Golf Club for dinner. We had sushi and they ordered Hibachi. We also ordered sushi a few times to bring out to the pool.
Dining Around Town
I thought driving around Ponce was pretty easy. You can use you gps in case and reach town in 5 minutes.
• Campianis Casual pizza place near Ponce Plaza where you can get a nice glass of wine, a good salad, and delicious pizza or pasta. The kids really liked it here so we went twice.
• King's Cream is a must! The crowds line up for this homemade delight, different than the ice cream in the states: it tastes softer and "meltier." We went 4 times in a week! 55 Calle Vives, Ponce.
• De Jesus Restaurant We loved this lively, Tico (authentic Puerto Rican) restaurant. The plates are heaping and reasonable (all under $20). Highlights for us were the seafood monfongo, the octopus ceviche, and tostones gandules (pigeon peas.) The fried chicken is out of this world coated in a tasty, thick, crispy crust. There was live music and the place was packed with families laughing and enjoying large meals together. 145 Hostos Avenue. 787-984-3232
• Lola on Calle Union on the plaza had a great evening scene and came highly recommended.
La Guancha Boardwalk
Locals come to the boardwalk to stroll, drink and graze from about 40 kiosks. The concierge mapped out which kiosk would have the best mojito and lobster empanada. It's especially hopping on Friday and Saturday nights. Sunday evening can be a good day to go as well because many restaurants are closed n town.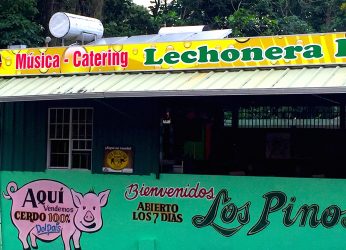 Dining Outside of Ponce
The Pork Highway  On Saturday or Sunday, take a trip to a lechoneras and explore a string of pig roasts along Route PR 184 in Guavate about 45 minutes from Ponce. You can also go during the week if you want a quieter experience. Smoke wafts through this winding, hilly road that is dotted with lechoneras, restaurants that specialize in pork. Each one has a whole pig roasting in the front window. Try caujo (stewed pork), longaniza (pork sausage), and of course, arroz y gondeles.
Afternoon and Evening Trip to the Bioluminescence Bay at Parguera.
You can combine a snorkeling trip with the Bio Bay trip. Arrive around 4pm and spend a few hours snorkeling. If you're with little ones, there are plenty of areas close by that are only waist high and have no waves. You'll easily see sea urchins, starfish, and sea cucumbers that you can dive down and grab, as well as small, pretty colorful fish and I even saw an anaconda. It was a nice, stress-free first experience for the kids but if you've snorkeled a lot, you've probably seen more variety.
After the sun sets, you can experience the Bio Bay. The darker the night, the brighter the bioluminescence so try to pick the evening with the smallest moon. It wasn't as bright as you see in the photos, but it is very cool. The kids initially said that they would not get in the water. But once I got in and showed them the sparkling under the surface, they dove right in. As you move your body through the water, you'll see little flickering like tiny fireflies. They loved it.
The trip is about $60 per person. We booked our tour with West Divers and had a private boat with a private guide, Jonathon. He was wonderful. We were able to go at our own pace. For the more adventurous or if you have older kids, you can travel our deeper; they offer scuba diving trips too. (787-898-3223)
An Inexpensive Dinner after the Bio Bay
Afterwards, you can go into the sleepy little town of La Paguera and enjoy a typical Puerto Rican dinner in an open air restaurant for well under $50 for 4 people—we spent $25 for 2 beers, chicken, fries and 4 lobster and beef empanadas–delicious.
---
Ever Considered Taking a Family Adventure…by Train? Amtrak Adventures.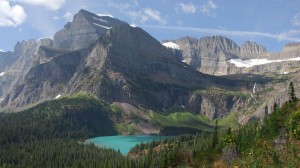 ---
Head West to Las Vegas and the Grand Canyon.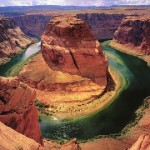 ---
Golfing with Kids.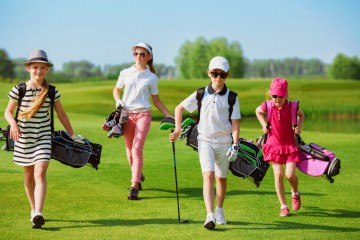 ---
Tips for Planning the Perfect Disney Vacation.