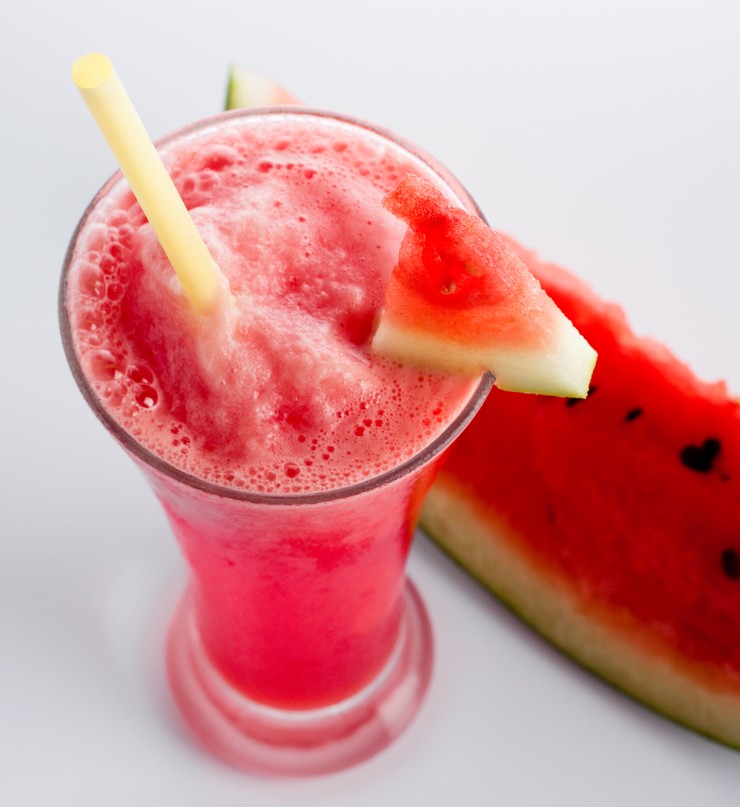 Staple cocktail both with or w/out gin around July 4th in my house.  Watermelon is at it's peak, and what makes better sense to quench your thirst than lemonade?  Combine the two and you are set.

Size:

6 servings



Ingredients:
7 cups 2" pieces peeled seeded watermelon (from about 4 lbs)
1 cup Simple Syrup* (water and sugar)
1 cup fresh lemon juice
3 tbsp grenadine
1 cup gin (optional)
3 cups ice cubes
Lemon twists (optional)



Directions:




Puree watermelon pieces in processor**.  Strain watermelon puree into large pitcher, pressing on solids in strainer to extract as much juice as possible.  Discard any solids in strainer.  Add Simple Syrup, lemon juice and grenadine to pitcher; stir to blend.  Stir in gin.  (Can be prepared 6 hours ahead.  Refrigerate.)

Stir 3 cups ice cubes into watermelon lemonade.  Pour into tall glasses.  Garnish with lemon twists, if desired.

* Simple Syrup: Stir 3 cups of water and 1 1/2 cups sugar in heavy medium saucepan over medium heat until sugar dissolves.  Increase hat and boil 2 minutes.  Refrigerate syrup until cold, about 3 hours. (Makes about 3 1/3 cups.  Use excess in other recipes.  Keeps in frig for a week.)

** I prefer to use my juicer for perfect consistency… but if not available follow processor instructions.