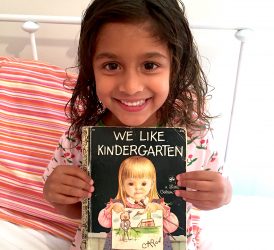 Superintendent Daniel Fishbein recently gave two extremely thorough presentations on what full day kindergarten would mean for Ridgewood. As a parent of a recent kindergarten grad, I can understand the views of the parents in my circle as they discuss the pros and cons of full day K. While my children were in kindergarten at Ridge, they attended enrichment at West Side Nursery School. My decision to enroll them was two-fold. One, everyone else was doing it. I definitely felt pressure knowing that if I didn't extend their day with enrichment, my children would be one of the few. But I also felt like they needed–and were eager–for more than just 2 1/2 hours of school a day. By age 4, I'd already added on some afternoons at West Side. On the days when I picked them up at 11:30, they begged to stay longer. They loved school.
Their teachers at Ridge did an amazing job at covering a lot of information in a very short period of time, but often, their mornings felt rushed…and even a little stressful. Even recess was rushed or sometimes missed. And if you've raised a 5 year old boy, you know they need that time to run and be outside. I loved that their full Pre-K days at West Side meant that they had two long outdoor playtimes–sometimes even three. They even had ample down time; my youngest loved quiet time at West Side. The children would lie side-by-side, close their eyes and listen to a story. Sometimes a few would fall asleep for 20 minutes. It gave them time to refresh and return to being little learning sponges. Their full days at West Side seemed to have the right balance of structured time, free time to explore and downtime. That environment was warm, relaxed and comforting; all the kids seemed happy to be there. So it felt like going backwards when we got to kindergarten at Ridge. I wished that the day was a few hours longer so that they could have experienced a more leisurely day with as much unstructured learning time as structured.
Selfishly, I was glad that when my kids were in kindergarten, they had a half day. Not that it was better for them; it felt better for me. Especially with my youngest, I wanted to hold on to that last year of special alone time with her. I loved having 2 free afternoons with her. Or I loved the idea. When I really look back at how we spent that time, sometimes, she was running errands with me–though I loved having her company. And many times, it was with other children–in a class or a playdate. Because that's what she craved. She got in the car at 11:20 every day and asked what we were doing next or who was coming over to play. She was little social being and wanted to be with her peers–not with me. She was ready for a full day even though I was not. I was recent;y chatting with a friend about this–it's on all our minds with the vote coming up. If my youngest had been in a full-day program, I think I would have just pulled her out once in awhile on a Friday afternoon and planned something special for the two of us.
My youngest is in first grade now so this vote won't effect my children, but perhaps it might effect me as a home owner. When we were looking at homes in Bergen County 4 years ago, I probably would have more seriously considered one of the other towns that had full-day (and a nicer pool.) At least then, I'd have the option to send them every day but would also know as a parent, that when I felt my child needed a break, I could decide to give them an afternoon off.
After hearing Dr. Fishbein's presentation, a few points surprised me. 1. Ridgewood is the only half-day program left in Bergen County. In 2014, 73% of programs statewide were full-day. And out of curiousity, I looked up what percentage of kindergartens are full day in the U.S. It's about the same: 77%. I admit I worried about the tax impact as well and then read that taxes would only go up approximately $111 a year (based on the average Village assessed home of $693,904.)
If you want to read Dr Fishbein's full report on full-day kindergarten, go to Shifting to Full-Day Kindergarten in Ridgewood.
---
For more articles on school and parenting, check out…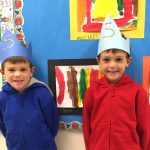 "Someday, when they are in need of the kind of help my outstretched hand cannot provide, I know they will be able to reach within and find the answer in the most basic and beautiful things they learned in the colorful, kind classrooms at West Side."
---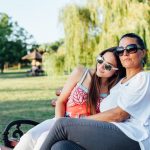 "When you find yourself getting heated over an issue or a problem with your child, take a step back." 
Parenting Tip: Pretend Your Child is Someone Else's.