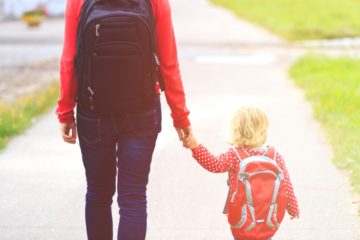 The first day a preschool can create anxiety not just for children–but for adults too. For many parents, it's the first time that they've ever been separated from their child. Or maybe you've been separated when you've had a sitter or eft them with grandparents, but the first day of school could be the first time yove left them somewhere new with a room full of new faces.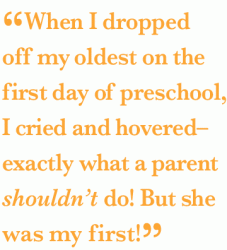 I have 3 children. When my first daughter started preschool, she was only 2 1/2 and in diapers–still a baby. Her ladybug backpack looked so big on her tiny frame that I thought it might make her topple over. When I dropped her off the first day of preschool, I cried and hovered–exactly what a parent shouldn't do! But she was my first. By the time I left my 3rd child, I would have dropped her on the curb if someone else would have walked her in–anything for an extra 5 minutes of freedom.
When we moved to Ridgewood, we chose West Side Preschool. Talk about a warm welcome; on the first day of school, director Melissa Saunders greeted every single child individually at the door. She kneeled down, shook my daughter's little hand and introduced herself with a smile. To my surprise, this was not just a first day of school occurrence. This was her routine–rain or shine. This simple gesture made my daughter feel so important and comfortable. Before she even got to the classroom, she knew someone: the director of the school!
I asked Ms. Saunders for a few tips for first-time parents of preschoolers. Below are 3 things that she suggested avoiding to make the first day go a little more smoothly. But we all make mistakes: I've done 2 of the 3 myself!
3 Things to Try to Avoid on The First Day of Preschool
1. Lingering.
"When parents wait in the wings and peak through windows," Ms Saunders explains, "it reminds children that they have been separated from their favorite people: Mom and Dad. The notion of out of sight, out of mind rings true for most preschoolers. It is usually the case that children will easily settle into a classroom environment if given the chance." So true. Made me remember my son's first day of camp when I guiltily left him at the door crying only to pick him up 2 hours later and hear him say, "But I don't want to go home! I want to stay here!"
"When a child has a more difficult time than usual adjusting to school," Ms. Saunders goes on to say, "teachers and parents can discuss ways to help your child's transition." Remember: these teachers have seen it all!
2. Showing Your Own Anxiety.
Ok, this one is a tough one. Ms. Saunders suggests that parents pay close attention to their behavior and their reactions. "Children are very astute and can sense what we are feeling. Any nervous energy we project, will be picked up by our child. Try to focus on the exciting things that are coming their way: new friends, a big playground, different toys and games."
3. Trying to have a one-on-one with the teacher before you say goodbye.
"Our teachers spend hours planning and preparing for you and your child to have a great first day. Allow them to give each family the welcome that they deserve and save any questions until the end of the day. Or for bigger concerns like food allergies, meet with them ahead of time so the first day can be about your child making a smooth and happy transition into the classroom routine."
Helping your child have a positive first day experience means that you will too.
For more about preschool, see "He's Letting Go of Me…and Preschool."