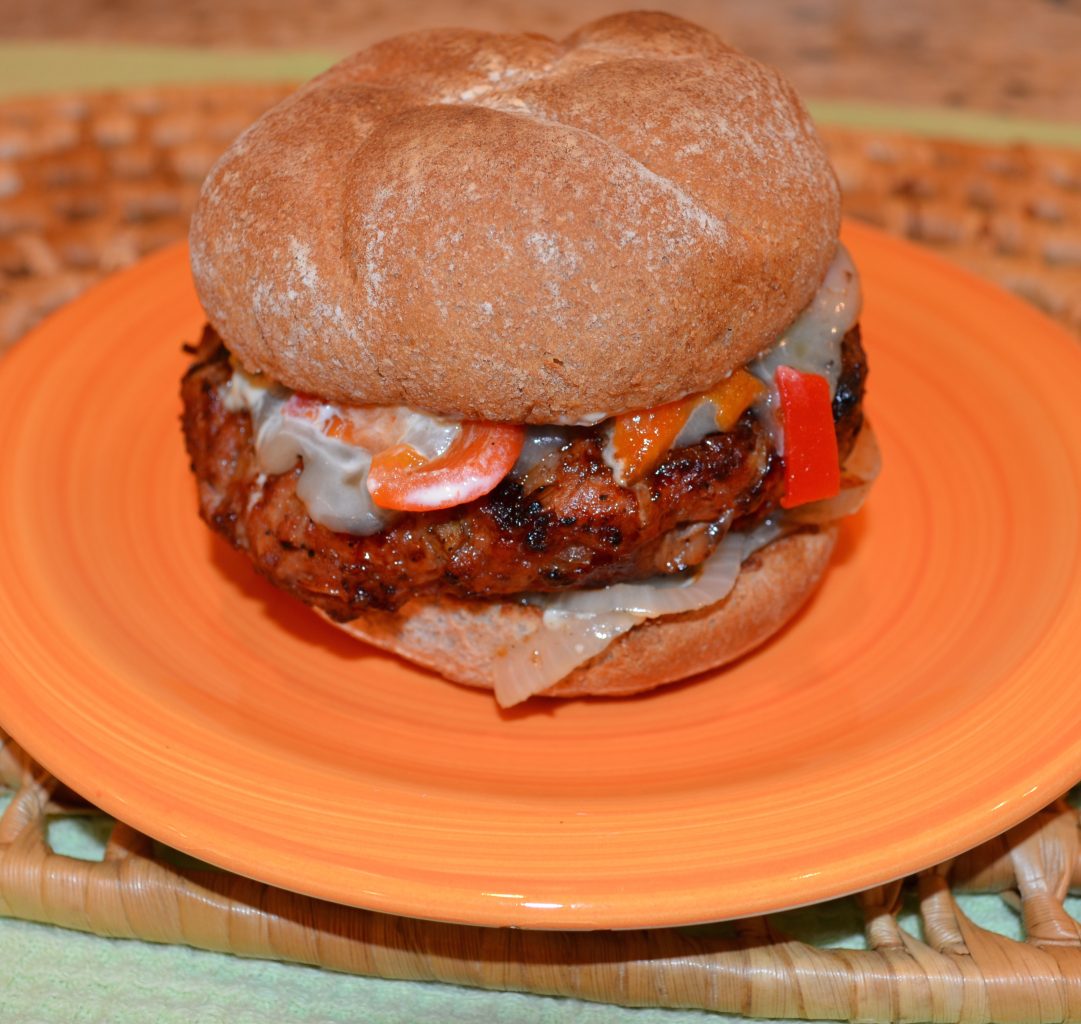 prepared by and photo by Emily S. Downs

Despite the spicy kick of this pork burger, the tangy saffron-lemon mayo compliments each bite just right.  Sauteed onions are incorporated along with chopped olives and spices to keep the pork juicy.  Don't forget the cheese!  Always a key ingredient.

Size:

4 servings



Ingredients:
1 tbsp extra-virgin olive oil
2 1/2 cups thinly sliced Spanish onion
3/4 tsp freshly ground pepper, divided
1/4 tsp salt, divided
1 lb lean ground pork
1 tbsp finely chopped Spanish green olives, such as Manzanilla
2 tsp minced garlic
2 tsp Hungarian paprika (Fairway Market)
1/4 cup mayonnaise
2 tsp freshly grated lemon zest
1 tbsp lemon juice
Pinch of saffron
1/4 cup shredded Manchego or Monterey Jack cheese (I used Monterey Jack)
4 whole-wheat hamburger buns, toasted
2 whole jarred Piquillo peppers, or jarred pimientos, halved lengthwise (I used pimientos)



Directions:




Heat oil in a large skillet over medium  heat.  Add onion, 1/4 teaspoon pepper and 1/8 teaspoon salt.  Cover and cook, stirring occasionally, until soft and translucent, about 10 minutes.  Set aside half the onion for topping; finely chop the other half.

* Preheat grill to medium.

Place the chopped onion in a large bowl; add pork, olives, garlic, paprika, the remaining 1/2 teaspoon pepper and 1/8 teaspoon salt.  Gently combine, without over-mixing, until evenly incorporated.  Form into 4 equal patties, about 1/2″ thick.

Combine mayonnaise, lemon zest, lemon juice and saffton in small bowl.

* Oil the grill rack… oil a folded paper towel, hold it with tongs and rub it over the rack (Do not use cooking spray on a hot grill.)  Grill the burgers, turning once, until an instant-read thermometer inserted in the center registers 165F, 10 to 12 miutes total.  Top with cheese and cook until it is melted, about 1 minute more.

Assemble the burgers on toasted buns with the lemon-saffron mayonnaise, some of the reserved onions and half a Piquillo (or pimiento) pepper.