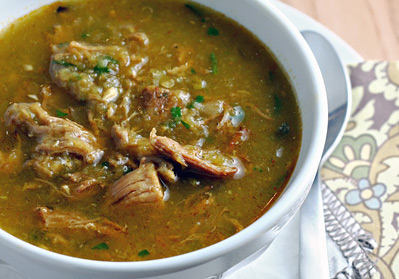 photo creds: letsdishrecipes.com

There's beef, and there's chicken and of course there's pork chili. Below is a recipe for the masses of chili lovers all over this world. Slow-cooking deepens the intense flavors that are thrown together in this mixture of perfect. We have tender pork, onion, chiles, garlic, enchilada sauce, Tabasco, cumin, cilantro, oregano and last but not least, chili powder. After only a short marriage of these ingredients, say around 4 hours… you have a chock-full-pot o'chili!

Size:

serves 10



Ingredients:
1 (2 pound) pork tenderloin
2-3 tablespoons olive oil
1 medium onion, chopped
1 Anaheim pepper, seeded and chopped
2-3 cloves garlic, minced
4 cups chicken broth
2 large (27 oz.) cans green chilies
1 (10 oz.) can green enchilada sauce
1-2 tablespoons green Tabasco sauce
2 tablespoons flour
1 teaspoon salt
1/2 teaspoon pepper
1 tablespoon chili powder
1 tablespoon cumin
1 teaspoon oregano
1/3 cup chopped fresh cilantro



Directions:




Heat 1-2 tablespoons olive oil in a large skillet over medium-high heat.

Cut pork tenderloin into 2 or 3 large chunks and season generously with salt and pepper.

Place pork in hot oil and sear on all sides until well browned. Remove pork and place in slow cooker.

Add onion, Anaheim pepper and garlic to the skillet (adding more olive oil if necessary) and cook for 3-5 minutes, stirring to remove any browned bits from the bottom of the pan.

Add pepper and onion mixture to the slow cooker with the pork.

Cover with chicken broth and cook on high for 3-4 hours, or until pork is tender.

Meanwhile, puree the 2 cans of green chilies, with juice, in a food processor or blender (you may have to puree one can at a time).

Stir the flour, green enchilada sauce, Tabasco, 1 teaspoon salt, 1/2 teaspoon pepper, chili powder, cumin and oregano into to the pureed chilies. Cover and refrigerate until ready to use.

Remove pork from slow cooker and shred. Return to slow cooker, along with pureed pepper mixture and cilantro.

Cook on low for another 3-5 hours. Serve with sour cream, shredded cheese and tortillas.