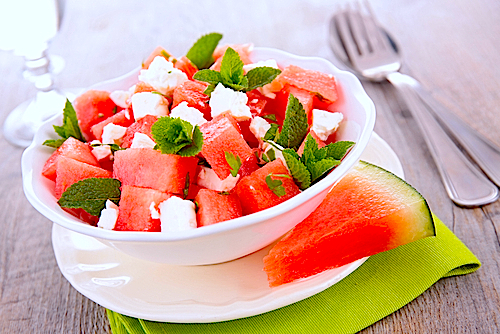 The perfect salad for any summer-time meal.  Just the right amount of sweet and savory.

Size:

8 servings



Ingredients:
7 cups seeded cubed watermelon
1 cup crumbled feta
1/2 medium red onion, thinly sliced
1/3 cup pine nuts, toasted
1/2 cup packed arugula
1/3 cup chopped fresh parsley
1/4 cup chopped fresh mint
1/4 cup olive oil
2 tbsp fresh lemon juice
1/2 tsp salt
1/2 tsp freshly ground black pepper



Directions:




Combine first 7 ingredients in a large bowl.

Whisk together olive oil and remaining ingredients in a small bowl; pour over salad, and toss well to combine.