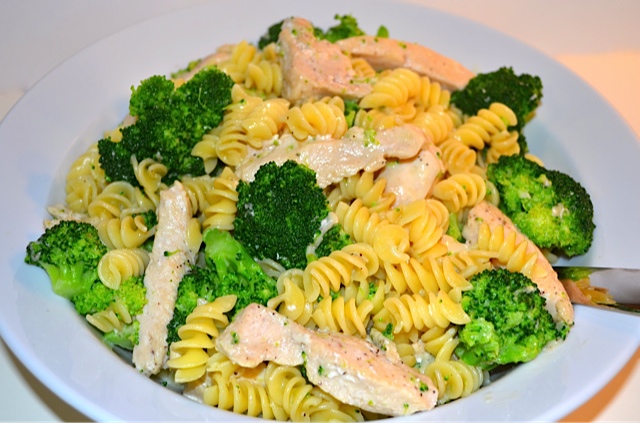 prepared by and photo by Emily S. Downs

Relatively easy and quick to make.  Incorporates something from each of the food groups making it an ideal meal for the entire family on another busy night.

Size:

4-6 servings



Ingredients:
5 cups broccoli florets
1 lb pasta (fusilli or corkscrew works best)
1/4 cup extra-virgin olive oil
1 1/2 tbsp minced garlic
3 large skinless boneless chicken breast halves, cut crosswise into 1/2" thick strips
1 cup dry white wine
1 cup low-sodium chicken broth
1 cup whipping cream
1/2 cup grated Parmesan cheese



Directions:




Cook broccoli in large pot of boiling salted water until crisp-tender, about 4 minutes.  Using slotted spoon, transfer broccoli to large bowl.  Add pasta to same pot and cook until just tender but still firm to bite.  Drain pasta.

Meanwhile, heat oil in heavy large skillet over high heat.  Add garlic and chicken and saute until chicken is just cooked through, about 3 minutes.  Using slotted spoon, transfer chicken to bowl with broccoli.  Add wine, broth and cream to skillet and boil until sauce thickens slightly, about 8 minutes.  Add pasta, broccoli, chicken and cheese to sauce and toss until mixture is heated through and coated evenly with sauce.