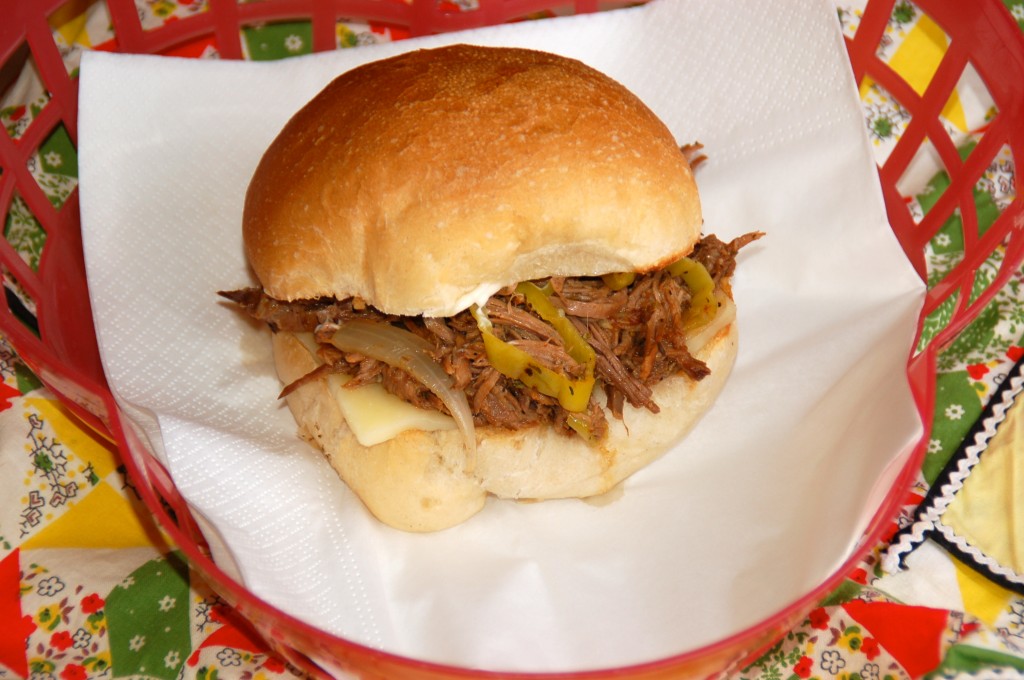 prepared by and photo by Emily Doscher

Not a Philly Cheesesteak in anyway, but there's beef… there's cheese, there's a roll… This sandwich uses 2 cups of the Shreddin' Shredded Beef recipe doctored up a bit.  Serve a big plate of cut up fresh veggies with these sangwiches and "yous guys will be comin' back fo mo!"

Size:

4 servings



Ingredients:
1 tbsp olive oil
1 large onion, cut into thin wedges
2 garlic cloves, minced
2 cups Shreddin' Shredded Beef
1/3 cup beef broth
5 bottled pepperoncini salad pepper, stems removed & thinly sliced
1 tsp dried oregano, crushed
1 tsp paprika
1/2 tsp ground black pepper
1/4 tsp salt
1/4 tsp celery seeds
4 slices Monterey Jack cheese
4 Italian round sandwich rolls, toasted, sliced in 1/2
2 tbsp mayo



Directions:




In a large skillet heat oil over medium-high heat.  Cook onion and garlic in hot oil for about 5 minutes or until tender.  Add shredded beef, broth, pepperoncini peppers, oregano, paprika, black pepper, salt, and celery seeds.  Bring to boiling; reduce heat.  Simmer, uncovered, for about 5 minutes or until heated through and liquid nearly evaporates.

Place Monterey Jack cheese slices on bottom half of roll.  Spread mayonnaise on top side of the roll 1/2.  Spoon meat mixture over cheese slices.  Place top of roll on top, mayonnaise side down.  Dig in!