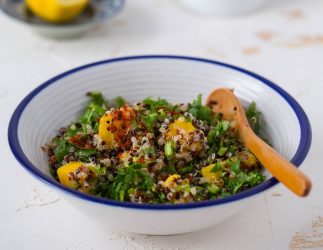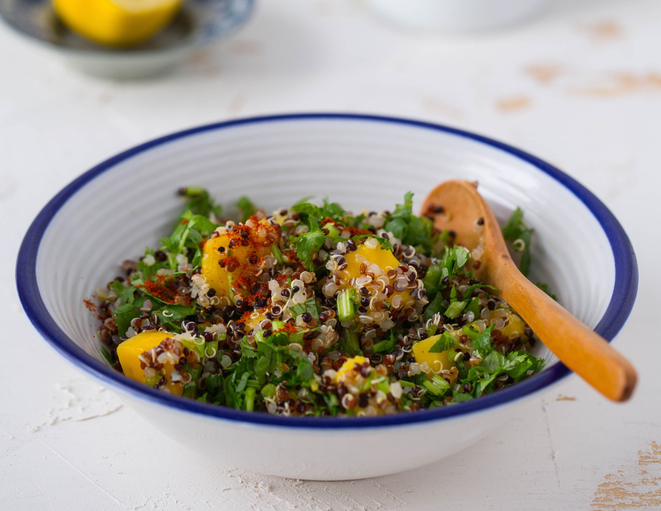 Very few meals taste better the next day, so understandably, when I say we are having leftovers, the troops are less than enthusiastic. Over the years though, I've gotten better at intentional leftovers — foods which can be easily repurposed in the following days. Especially in the summer, I find a little planning makes cooking so much easier and more enjoyable. I always make twice as much of the following 5 ingredients.
Quinoa. This is such a delicious, healthy and versatile grain, and if I serve it as a side on Monday, the rest of the week, it is available for adding to green salads, mixing with cooked spinach or broccoli, or for serving as a main, tossed with roasted vegetables, chicken or shrimp.TRY: Asian Quinoa Meatballs on Monday, and make enough quinoa for for a Kale, Quinoa, Mango Salad on Wednesday.
Rice. Similar to quinoa, it is just as easy and quick to make twice as much. While you can get rice pretty cheap, I think it is worth spending a little more and getting more flavor. My favorite is Rice Select Texmati Brown or Jasmati, and one package for about $7 is usually enough for two full meals. My kids love homemade fried rice, which is super easy. Chop and saute some onions, carrots, celery and whatever else you have lying around in olive oil on high heat. Add your leftover rice until it warms. Make a hole in the middle and scramble 2-3 eggs working them into the rice. Douse with soy sauce to taste and dinner is read in less than 10 minutes. Leftover rice is also great for burritos, rice pudding, and mixing with chicken or ground beef in casseroles.

TRY: Bibimbap on Tuesday and make enough rice for a Chicken, Rice and Broccoli Casserole on Thursday.

Grilled Chicken. I hate handling raw chicken, so if I'm going to get my hands dirty, I want it to be worth my while. I always grill double, often doing half with a bbq sauce or other marinade, and the other half with just some oil, salt and pepper. The chicken is then simple, refrigerates well and is available to add to salads, for homemade chicken salad, for chicken tacos, for a simple chicken bruschetta (topped with tomatoes, fresh mozzarella and balsamic glaze) or for delicious sandwiches, warm or cold.

TRY: Easy Basil Grilled Chicken on Wednesday and make enough chicken for Chicken Fajitas on Friday

Bacon. I know, terribly unhealthy, but every once in a while, I give in and make a huge breakfast complete with a side of bacon. I hate the way it makes my house smell, and cleaning the pan is a pain, so I might as well double up. It lasts for a while in the fridge, and you can add it to a dinner- sized spinach salad, shrimp and grits, roasted brussel sprouts, breakfast-style fried rice, frittatas, BLTs and so much more.

TRY: Treat them to this Bacon Waffle Bake on Saturday and make enough bacon for this savory Apple, Bacon, Carmelized Onion Sandwich on Sunday.

Potatoes. Baked or boiled white or sweet potatoes are cheap and easy to make. The next day, they can be chopped and added to frittatas or quiches, sautéed with onions, salt and olive oil for a great side to burgers, sliced and topped with melted cheese for a fun snack, made into potato salad, mashed, re-baked with toppings, or can become the base for an easy soup.

TRY: Creamy Potato Salad with Fresh Herbs on Friday and make enough potatoes for Grilled Potatoes with Rosemary on Monday.
Leftovers are so much more palatable when you intended to make too much, and had a plan for reusing them later in the week. In addition to the above, extras of any vegetable are great for adding to omelettes, pasta, stir-fry, quesadillas, soups, and salads.  The sad truth about having kids is there is no way of getting around the fact you have to feed them. Still, sometimes it comes as a surprise to me when 6 o'clock rolls around and they ask about dinner. The more I planned in advance, the nicer my response to this question.