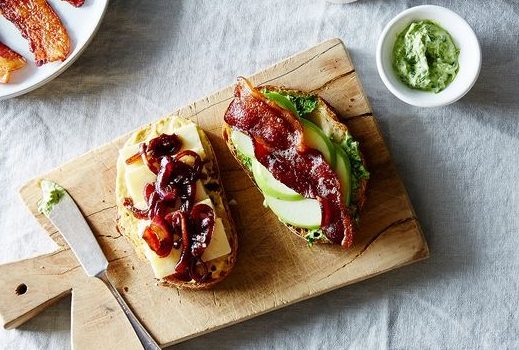 photo creds: food52.com

Step out of the boring old sandwich box… With just a little effort you'll appreciate this flavorful hearty lunch and/or dinner sandwich. Food52.com published this recently and it's just simply delicious!

Size:

makes 2 sandwiches



Ingredients:
1/4 cup extra virgin olive oil
1 red onion, peeled and cut into half-moon slivers
1 pinch crushed red pepper
1 tablespoon good balsamic vinegar
4 slices thick-cut bacon
1/2 Granny Smith apple, cored and sliced very thinly; a mandoline is perfect for this
2 thick slices applewood-smoked mozzarella or sharp cheddar cheese
2 tablespoons mayonnaise
1 handful arugula
1 to 2 teaspoons fresh thyme leaves
4 slices sourdough bread
Dijon mustard
Salt



Directions:




In a 10- or 12-inch skillet set over medium heat, warm the olive oil. Add the slivered onions and crushed red pepper and stir to combine everything well. Let the onions cook for 10 minutes, stirring only occasionally. When they're soft and becoming translucent, add the balsamic vinegar. Cook another 5 to 10 minutes. You want the onions to be very soft and flavorful, and for some to have started to crisp slightly.

In the meantime, fry your bacon and then set aside on a paper towel-lined plate.

In a food processor, combine together the mayo, arugula, and thyme. Season with salt (to taste). If you feel you want it a bit looser, add some of your bacon drippings.

Toast the bread. Spread two slices with a thin layer of Dijon mustard and the other two slices with the arugula-thyme mayo. Add one slice of cheese, 6 to 8 slivers of apple, and a generous spoon of caramelized onions to each sandwich. Close them up and dig in!