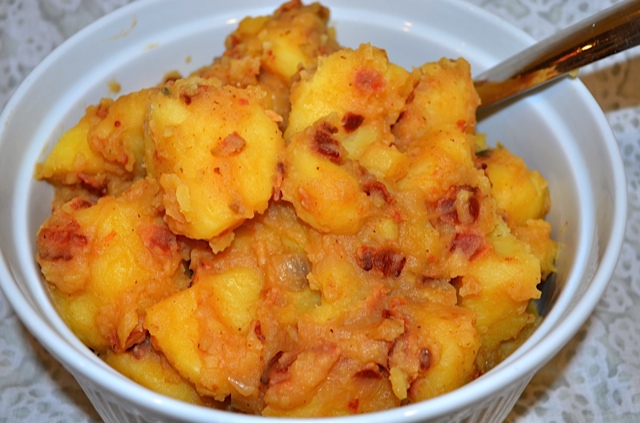 prepared by and photo by Emily S. Downs

Potatoes boiled in chicken broth and seasonings raises the stock of your average tuber.  Throw it into caramelized onions and bacon, and now you are talking crazy tantalizing taters.

Size:

serves 6



Ingredients:
2 1/2 lbs medium potatoes, such as fingerling or Yukon Gold, peeled
4 cups chicken stock, preferable homemade
1 garlic clove
1 dried bay leaf
6 stems thyme
1 plum tomato, cut into large pieces
Coarse salt & freshly ground pepper
6 ozs sliced bacon, cut into 1/2" pieces
1/2 medium onion, halved crosswise & thinly sliced



Directions:




Bring potatoes, stock, garlic, bay leaf, thyme, tomato, and a pinch of salt to a boil in a medium saucepan.  Reduce heat, and simmer until potatoes are just tender when pierced with a sharp knife, 12- to 14 minutes.  Transfer potatoes to a bowl using a slotted spoon.  Strain cooking liquid through a coarse sieve (allowing some thyme leaves through); discard solids.

Cook bacon in a large skillet over medium-high heat until fat is rendered and bacon is just beginning to brown, about 4 minutes.  Add onion, and reduce heat to medium.  Cook, stirring frequently, until onion is golden, 7 to 9 minutes.

Add potatoes to skillet, and pour enough cooking liquid (1 1/2 to 2 cups) to come halfway up sides.   Raise heat to medium-high.  Simmer, turning potatoes occasionally to coat and seasoning with salt and pepper halfway through, until liquid has reduced and glazes potatoes, about 15 minutes.